Tips and stories on houseboat living, live on a boat, or full time liveaboard.
The TOP 10 reasons to love houseboat living, along with the best places to go houseboating. You've considered it, but don't know
What
to do,
Where
to do it, and
How
to go about living on a houseboat?
Houseboat Living, live on a boat liveaboard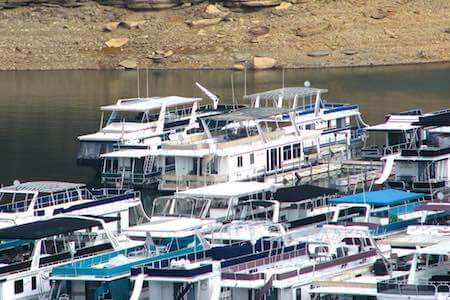 We will look at the different options and what you can do to make the dream of living on a boat happen. You can see by the video all the various places, and the ways that people are using houseboats, especially in North America.
How to Successfully Downsize into a Smaller Space
Making the decision to downsize can be extremely liberating; however, it can also be both physically and emotionally exhausting.
While the idea of keeping the belongings you need and getting rid of the ones you don't sounds simple, that usually isn't the case.
In an effort to simplify this process here are some experts in tiny living into places like houseboats.

A Houseboat Living Aboard Video
Julie's 3 min video on houseboats.
The TOP 10 Reasons to Love Houseboat Living
If you were to ask 100 houseboaters why they love living on a houseboat, you'll surely get 100 different perspectives. The list has been reduced to the
TOP 10 most popular reasons to Live on a Houseboat!
You wake up, and you don't have far to walk to go fishing!


The sound of the rain on the roof, you'll sleep like a baby!


You get "home", and feel like your already on holidays!


There's nothing like working from your house boat office!


The suppertime BBQ's on the front deck taste so good!


Watching the sunrise, and morning coffee are incredible!


No more grass cutting and driveway shoveling, ever again!


The marina atmosphere and neighbors are simply the best!


Where else can you change the waterfront view anytime!


The freedom to cruise the 7500 mile Great Loop triangle!


TOP 10 Best Places for Houseboats
It's hard to decide the Top 10 best places to go houseboating, since there's so many beautiful areas and each one has their own charm and beauty. Here is a list of some of the areas, but
not the only places
to houseboat.

A typical marina atmosphere.
Amsterdam, Australia, Bahamas, Canada, India, USA
(see below)
Major LAKES and LOCATIONS in the USA
Crane, Cumberland, Havasu, Lanier, McClure,
Mead
, Oroville,
Ozarks
,
Powell
, Rainy, Roosevelt,
Sausalito
Shasta
, Smith Mountain, Sonoma, Tahoe, Travis, Waco
Earn a Living, While Aboard
Many things in life cost money, and unless you are independently wealthy, you may have to "work" between meals. :) If your interested in living on a houseboat, yet being able to earn a living in between meals, the list below will give you a starting point to
figure out an action plan.
Start your online Business now. Do like I did, use SiteSell to start a successful themed website, based on one of your hobbies or passions.
Turn your Knowledge and Passions into revenue by building online traffic.



Try Local Businesses & Restaurants. This can be an alternative if you would prefer working close by, but not necessarily on your houseboat.


Work from Home Based Business. There's profitable Work from Home businesses that you can start to allow you to break away from the 9-5.


Start doing Internet Freelance work. There's many opportunities for income like story writing, editing, translation, proof reading, or data entry.


Electrical & Mechanical boat repair. If your more technically minded, you have excellent opportunities in Mechanical and Electrical boat repairs.


FAQ's on Houseboat Living
You probably have questions about Living on a Houseboat, and this Part-2 link
House Boat Living
will open a new window. Or you can continue reading and at the bottom of the page, click the link,
Part-2
of Houseboat Living.
Stories about Houseboat Living
If you've spent any serious time on a house boat, you most likely have had some hilarious situations, or experienced new better ways of doings things, than this is the time to put
your tips or stories
on paper ( or keyboard ).
Do you want to be "heard", and be on the Web?
Here's an opportunity to have your voice heard.

What Other Visitors Have Said
Click below to see contributions from other visitors to this page...

Go to Part-2 of Houseboat Living, from Live on a Houseboat page
Return to Houseboat Questions & FAQ's, from House Boat Living
Return to All about Houseboats from the Houseboat Living page
Continue Reading Our Popular Pages
Our collection of houseboat ebooks

We just love houseboats, do you?
Join our monthly HB Insider for free