Living on a houseboat with no AC electrical power
by IAN from All About Houseboats
I want to share my recent experience with living on our houseboat with no AC electrical power. Since my office is on our houseboat, we find 120v AC power extremely useful and needed for normal everyday life.

Sure, we all get to taste the occasional power failure (due to storms, a few hours, short periods), but our adventure started when our marina lost AC electrical (dock side) shore power for 7 days.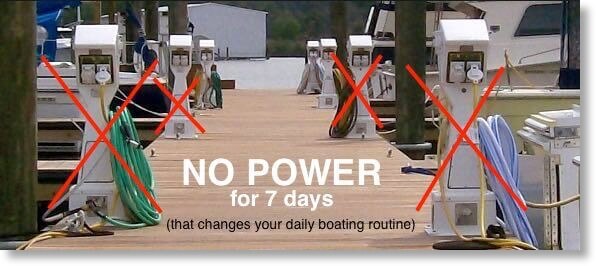 Marinas can also suffer (long-term) electrical power failures.
Yes, we're still ALIVE to tell the tale...
Yes, we survived the ordeal..., but as you may not know, not all houseboats are designed or equipped to last for prolonged periods (more than a day or so) without AC/shorepower at a time. This is where it's a good idea to
plan & prepare in advance
, not after the situation arises.
We take AC SHOREPOWER for granted
You never know when your marina (or houseboat) will suffer from an electrical power failure, especially when you're docked at your home port (marina). We tend to take 120v AC power for granted, as it quietly enters our boat, and easily
powers all our modern day amenities.

What if, or what WHEN...
Now you wouldn't VOLUNTARILY disconnect yourself from the shore power post for 7 days (just for the fun of it), to see if you enjoy life more "without" power VERSUS life with electrical power. But what happens if, or when a long-term power failure hits your area,
how would you deal with it?
How OLD are your batteries?
Within 8 hours of losing electrical power at the marina, I quickly realized that my house batteries were "showing their age". They were dropping in voltage far too quickly, and showing me that they had lost a significant amount of Ah capacity (compared to new batteries).


Three new Group 27 deep cycle batteries for the houseboat.

How to RECHARGE your batteries quickly
Even after getting some new Group 27 Deep Cycle batteries for the houseboat, I knew that I only had @ 150Ah of usable battery capacity (you don't want to discharge more than 50%), so I had to pull out the portable 2000 watt generator in order to recharge my house batteries.

A small portable generator is VERY useful for your houseboat.
Here we are 7 DAYS, or 168 HOURS later... :)
As they say, ALL GOOD THINGS MUST COME TO AN END... and just as I was getting used to living life without AC shore-power, the marina's power failure came to an end, and we started to return back to normal life with full 120v electrical power... :)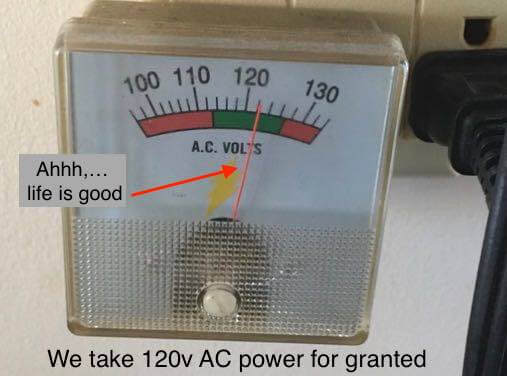 Yeah, we now have 120v AC power back on our houseboat... :)

Electrical power & your daily routine
If you sit down and
take a moment to realize
that your shore-power connection allows you to have hot water, your fridge/freezer, your TV, some lights, computers, maybe heating or air conditioning, your microwave, your stove, your coffee machine, amongst many other small luxuries on your houseboat. When your shore power goes down, you
need a generator to fill in the gap.
Do you have a portable generator?
The reality is,
every houseboat owner should have a small portable generator
for those weekend getaways, holiday vacation trips, or as in this situation a prolonged power failure.

This power failure experience really showed me that I made a great decision years ago to buy a small portable generator. If you are thinking of getting one,
here are some great portable generator models to consider.
How do YOU DEAL with power failures?
Like we all know, we can never really predict or pinpoint "when" we are going to lose shore power, but
how are you prepared to deal
with an extended loss of AC dock/shore side power?
Lastly, hopefully some of our readers and visitors will share and post comments about their
houseboat related AC SHORE POWER LOSS experiences and tips.
Feel free to use the "click here to post comments" link found near the bottom of this page.