YES, with the right house boat plans,
you can start building your own now
Yes, with house boat plans, you can build a houseboat. When it comes to planning building a houseboat there is one thing you should first consider, do you
Buy One or Build Your Own?
That's a common question I get asked often, so I'll go through some Pros & Cons to help.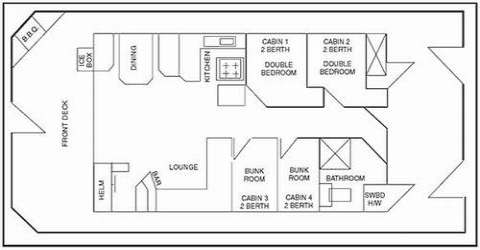 An overview of a house boat floor plan
Share your Houseboat Experience and Knowledge
Like to See what other Readers have contributed?
Building with House Boat Plans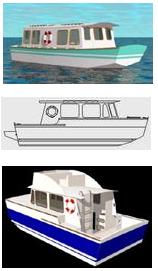 How I Got Started in Building a Boat
Grant me a moment to share how my "houseboat building" got started! When I was a kid, my father and I embarked on a project that little did I know at the time, would change my life forever! We built a houseboat :)
We built a 22ft plywood-fiberglass covered pontoon houseboat with all the necessary amenities. I still see the outboard motor that it had, a "British Seagull" outboard, Wow, what a motor, "no electric start" on that baby!
I remember the smell of freshly cut wood, and the pungent smell of fiberglass epoxy. At the beginning, it seemed to take forever, since it didn't take shape till further down the road, but I remember the feeling of accomplishment and pride when she started to look like a house boat.
Ahhh, such good memories, especially since my father passed away not longer after we launched her. To this day, I still see his smiling face as we backed this "boat house" down the ramp in Burrard Inlet, Vancouver, BC. I'll stop rambling on, since you're here to get your project started.
Should you, Would you, Could you?
You may be here contemplating if you should buy a boat, or build your own houseboat? The beauty of designing a boat, is that you can integrate all the storage, equipment, and all the options you want for much less.
With the price of new and used houseboats reaching new heights, it's no wonder that some of you maybe considering building your own. One word of warning though, do you have the time to pursue such a project?
You have to weigh your "options", since while you're building, you're not navigating, and if you buy a used houseboat, you could be spending much less time refurbishing a good used boat instead. Just food for thought!
If YES, you have enough time, and have a location to be comfortable while your building her, and some good friends to occasionally help with the odd job, than your on your way to building your boat. Let's get started...

Who's building these houseboats?
Basically the people building boats range from all walks of life and ages. In some cultures, because of finances or availability, the only way to have a houseboat would be to build your own. Generally it's people with access to some tools, some location to build it in, and some good friends to help out occasionally. The rest of it that's left, is a Step by Step process.
What are the Types or Styles to build?
When it comes to
Types or Style
to build, you have a large choice, since house boats come in many varieties and models. You can choose
Pontoon
, Barge, Displacement,
Catamaran
,
Trailerable
, or a
Homebuilt Houseboat
.
Find free (and almost free) Boat Plans
When it comes to
finding Houseboat Plans
and Designs, the skies the limit. You have
free Houseboat Plans
, and they go up from there. Interested to see
different Houseboat Designs?
Why you should Build, and not Buy?
There are many advantages to building your boat, instead of buying one. For starters, you will have the feeling of pride & accomplishment when you're finished. The boat will look, be equipped, and built the way you want. The savings involved are great, when compared to a New one.
How to Plan and Prepare a Project
When you've decided to build you own, and now you have to layout the different steps to the project. You'll need to list your boat Needs & Wants, Hull Floor House Boat Plans, Material, Equipment, Tools, and a Locale.
Remember to document and photograph the steps used to build your boat, since this will inspire other's to build one of their own. We now have a web page dedicated to
Past & Present house boat building projects.
---
The PROS on "House Boat Plans"
---
The personal satisfaction of building a house boat.
If the thought of building a house boat is appealing and something you've considered, than your half way there! The other half, is just finding suitable plans, weigh the different construction materials, and consider what "options" that you want aboard, and you can build the houseboat of your dreams.



You have the space, friends, tools, and house boat plans...

If you're handy with tools, not afraid to break a sweat, and have the desire, than possibly a houseboat construction project can be very satisfying. They have houseboat plans that can be built in aluminum, fiberglass, steel, and yes, even bamboo.



The financial savings are substantial, and can be used to...
By building your own, you can save a substantial amount of money, and by custom design the houseboat of your dreams. There are some low-cost, and even free houseboat plans to get you started.



You can have "floor plans" for any size or style boat.
These days you can find a house boat floor plan to help build the interior of any houseboat style or size. Depending on your needs, some floor plans are very well designed, that way you can keep the crew happy. Good floor plans make efficient use of the available space, and provide ample storage and comfort that the whole family can appreciate.



With builders creating excellent plans and designs, it's easy!
The tedious process of creating a house boat design is now simplified with the use of computers, CD's, and DVD's.




---
The CONS on "House Boat Plans"
---
Starting a house boat project is not for everyone!
If the thought of spending all your spare time, and being away from your family is not appealing, than possibly it makes more sense to go about buying a houseboat, than to try and build one. In the long run, it will be easier, and less frustrating to pursue, or plan-budget for a New or Used houseboat?


Last but not least, make sure you're "spouse" agrees.
You want to make sure that he/she understands the time and money involved. Explain about the sense of accomplishment and pride that will be achieved once she's built and launched. Nothing is better than a job well done!

---
"eBook" - Build your own Houseboat
As you can see Building your Own Houseboat is a great idea! With the a good set of House Boat Plans, you're dream can come true.
Which brings me to a great book that I just read and that really inspired me. It is an excellent read to motivate anyone contemplating building a house boat. It gave me the feeling to start building another houseboat, but I think my wife would definitely have something to say about that.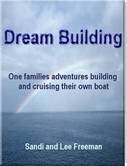 As you can see by the title, it's about a families experiences, details, and photo's about building and cruising a houseboat. The stories a little "dated", but still relevant to today's projects.

I found it filled with great information and details, that it brought me back to my boat building days. Hmmm, maybe I could build one in the garage?


A very inspiring book indeed, so if you're curious to
know more about the book
, or would like to read it, I know you'll enjoy it, and it will help you. Let me know if you get boat plans and
start building
one, IAN.
---
Show us your Present or Past projects
What better way to be on the Internet, than "showing off" your House Boat Plans, and your Boat Building skills. Here's a way for you to showcase and share & contribute your Tips, Stories and Experiences below:
Do you want to be "heard", and be on the Web?
Here's an opportunity to have your voice heard.

Read What Other Visitors Have Said
Click below to see contributions from other visitors to this page...

Are you be interested to see some Houseboat Plans.
Are you be interested to see some Free House Boat Plans.
Like to return to the Top of this Houseboat Plan page.
Return to All about Houseboats from House Boat Plans
Continue Reading Our Popular Pages
Our collection of houseboat ebooks

We just love houseboats, do you?
Join our monthly HB Insider for free