Inflatable Water Toys for Houseboats like fishing boats, dinghy, canoes, kayaks...
When it comes to inflatable water toys for houseboats, there's a wide selection to choose from as there's inflatable canoes, kayaks, fishing boats, dinghies, SUP's, and wave sliders to play with... :)
If storage space is an issue, or ease of use are things that are important to you, than you will now find the quality and simplicity of these toys just amazing. Have a look at the wide selection of inflatables below.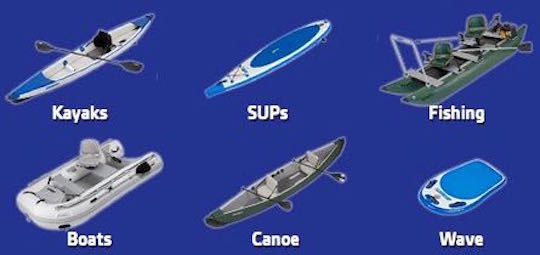 Kayaks, Boats, Canoes and Inflatable Water Toys for Houseboats
Advantages of Inflatable Water Toys
* Space and Storage
As you know, space and storage on a houseboat is always at a premium, and that is where "inflatable water toys" are a huge advantage. They can be deflated and reduced in size to be stowed away taking up less space.
* Lightweight
If you have ever owned a solid or rigid boat, you know how heavy and cumbersome they can be. This is an area that makes inflatables a huge benefit as their lightweight can be launched by kids or elderly family members.
* Versatile & Rugged
We all remember the "inflatable toys" from long ago that were poorly made, and that would constantly deflate or burst. If we fast forward to the inflatables of today they are light years ahead in terms of quality, strength, and durability, making them a very cost effective solution for family fun.
* Excellent for the Budget Minded
Another huge advantage of inflatable water toys has to be their much lower cost compared to traditional (solid/rigid) water toys. Instead of only being able to afford one "traditional water toy" on board, you can now afford to have a wide array of inflatables and a wide selection of "water" entertainment choices.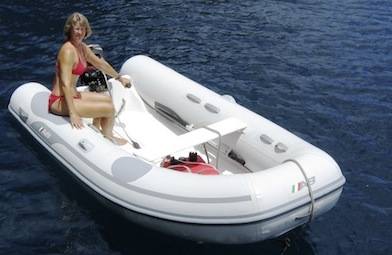 Houseboat Toys - Inflatable Dinghy and Motor
Wide Selection of Water Toys
* Dinghy Boats
Dinghies are excellent for carrying passengers and supplies as they can be fitted with outboard engines.
* Canoes
Canoes are easy to launch and store onboard. They're great for exploring the surrounding shoreline.
* Wave Slider
Wave sliders are great for playing in rivers, waves, and whitewater. They store easily like a yoga mat.
* Kayaks
The kayaks are dry & wet boats, yet they can be very stable, comfortable, and dry on flat-water as well.
* SUP's
Stand-UP paddleboards are a new innovative way to explore the water in a sitting or standing position.
* Fishing Boats
These extra wide and ultra stable fishing boats are fully equipped to carry you and all your fishing gear.
Click the Water Toy that you Like!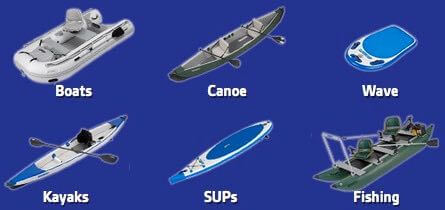 * Click here for more information on Inflatable Water Toys
Return to the Houseboat Parts and Accessories page
Return to the Houseboat Liquidation Center page
Continue Reading Our Popular Pages
Our collection of houseboat ebooks

We just love houseboats, do you?
Join our monthly HB Insider for free