The Library for Houseboat Books, learn all the skills for house boats & houseboating
Our collection of houseboat books, boating ebooks, Videos and DVDs.

You're looking to BUY a houseboat?
Feeling a little confused or intimated? We don't all start out as experienced boaters, let alone houseboaters, but how do you avoid those beginner, damaging, or expensive mistakes.
Are you looking to SELL your houseboat?
Would you like to sell the boat quickly and for TOP dollar. With our Top-10 Selling Tips, it won't take long to say "Sorry, it's already sold".
Looking to PRE-INSPECT a houseboat?
Would you like to do a preliminary inspection of a boat before sending in a professional marine surveyor? Tips to DIY, and eliminate boats that aren't worthy of a costly marine survey.
You want to do a SEA-TRIAL or a test ride?
Doing a sea-trial on a houseboat is almost as important as doing a survey, yet so many buyers neglect taking the boat for a test ride.
Testimonial:

"Your ebook, and the wealth of information in it helped us immensely. We were just beginners and we were scared about buying our first houseboat."
Thank you, Margaret & Peter, Ohio

Buying a Houseboat? Download this eBook First!
After a lifetime of buying boats, I can't stress the point enough, this book will totally reveal the tips and secrets you need to get started on the right track. It'll pay for itself 10x over, and it may even save your marriage :)
Anyone buying a houseboat should
download this ebook
as it's the fastest, easiest, and simplest way to become an experienced knowledgeable buyer! Become a boat buyer that saves time, $$ money, and buys the right boat.
Sincerely, Ian of www.all-about-houseboats.com

---
eBook Offer: You're Selling a Houseboat?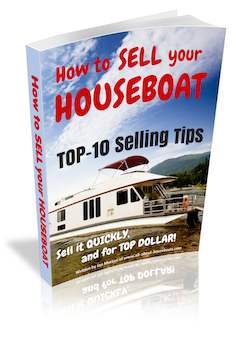 How to Sell your Houseboat,
Sell it Quickly and TOP Dollar
Don't miss the opportunity
to "Sell it like a Pro" today.
Read it before listing your boat.
Use all the strategies to prepare,
market, and maximize your price.


The "How to Sell your Houseboat" ebook has the
TOP-10 Selling Tips
that provides you with information and techniques used by many professionals around the world. You'll learn secrets on how to prepare, market, and how to successfully finalize the sale of your boat. You should definitely use these strategies and
download this eBook before listing your boat for sale.
Sincerely, Ian of www.all-about-houseboats.com

---
Return to the top of House Boat Books page
Return to All about Houseboats from Houseboat Books page
Continue Reading Our Popular Pages
Our collection of houseboat ebooks

We just love houseboats, do you?
Join our monthly HB Insider for free