Houseboat Transport - getting a shipping quote to move your house boat.
Looking for a houseboat transport company that can safely and cost effectively move or ship your house boat? I personally have had boats shipped, and I know how important it is to have the job done Right!

So whether you want to move a small boat, mid-sized, or a 100+ foot houseboat, getting the right people with the proper equipment and all the required papers to move your boat is vital.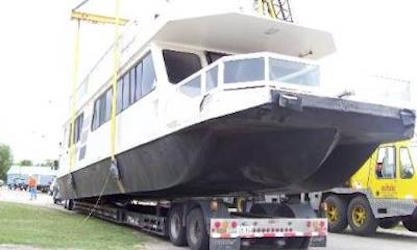 Houseboat Transport - small, medium, large house boats
Wrong Equipment & Inexperienced People
You definitely don't want the wrong equipment or inexperienced people mishandling your pride and joy and creating more problems than you originally anticipated.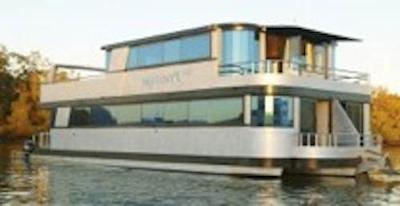 Transport quotes of all houseboat sizes or distances
Lowest Bid is Sometimes Dangerous
Nothing worse than choosing the lowest bid and finding out that your houseboat has been damaged, impounded, in an accident, or a fatal injury. (not an insurance call you want to make)
You Want the Job Done RIGHT.
You want a transporter that has access to the proper equipment like escort vehicles, flatbed or low-rider trailers, hydraulic or travel lifts to aid in retrieving or launching your boat. You want a shipper that understands flybridges or other height limits to be taken care of.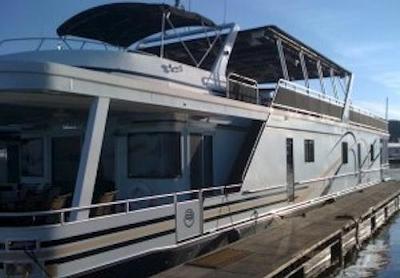 Houseboat Transporter - the right people, trucks, trailers
Houseboat Transport Companies
You'll find some houseboat moving companies that are local, some in your state, and some are national transporters. They should all have transport logistics depending on their equipment, personnel, and transport scheduling.
Read some Tips on Preparing for a Boat Mover page
Return to the House Boats Transport Directory page
Return to the All About Houseboats home page
Return to the TOP of the Houseboat Transport page
Continue Reading Our Popular Pages
Our collection of houseboat ebooks

We just love houseboats, do you?
Join our monthly HB Insider for free