Read an EXPANDED Summary
The How to Buy a Houseboat ebook is a step-by-step guide filled with tips, answers, and tools to help you through the planning & shopping stages. It's an easy to read, honest, straight-forward guide that covers 100's of boat-buying topics. Start by reading the Table of Contents below.


TABLE OF CONTENTS (expanded)
20 Chapters (with 100's of answers)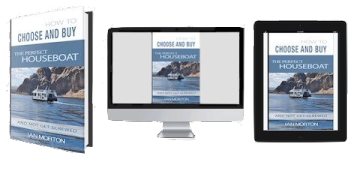 Chapter #1 (page 1-15)
HOW TO BUY A HOUSEBOAT IN A SIMPLE PROCESS.
- The boat-buying journey, let's buy that dream boat.
- Learn to Buy the Right Boat, the First Time Around.
- Congratulations, now let's separate the two sides.

Chapter #2 (page 16-20)
WHAT ARE YOU GOING TO DO WITH YOUR HOUSEBOAT?
- Do you want occasional anchoring, or weekend getaways?
- Do you want to go long distance travel, or long-term cruising?
- Do you intend to do full-time living or want to live-aboard?
- Are you single, a couple, a small family, or a large group?

Chapter #3 (page 21-40)
WHAT STYLE OF HOUSEBOAT SHOULD YOU LOOK FOR?
- Do you want a fast, slower, trailerable, or stationary boat?
- Do you prefer a pontoon style, or a full-hull houseboat?
- What size houseboat should you buy to satisfy your needs?


With visual diagrams & photos

Chapter #4 (page 41-50)
WHAT TYPE OF ENGINE, DRIVETRAIN, OPTIONS, ETC…?
- Should you buy a single engine or twin engine, diesel or gas?
- What are the differences between inboards, I/O's, outboards?

Chapter #5 (page 51-54)
DO YOU BUY A NEW, USED, OR TIMESHARE RENTAL?
- Let's look at the pros/cons of new vs used vs timeshare.
- Do you prefer having a warranty vs more maintenance?
- Newer houseboat versus upgrading an older houseboat.
- Compare newer vs older boat equipment and technology.

Chapter #6 (page 55-62)
THERE'S FASTER & SLOWER BOATS, WHICH ONE?
- The pros & cons of displacement versus planing hulls.
- Let's look at size, speed, time, distance, mpg, and mph.


Buy a boat, and 'NOT get taken'

Chapter #7 (page 63-69)
DECISIONS, TO BUY ALUMINUM, FIBERGLASS, ETC…?
- Aluminum houseboats, a look at the pros and cons.
- Fiberglass houseboats, a look at the pros and cons.
- Should you consider buying a wood or steel boat?
- Salt water, do you buy an aluminum or fiberglass boat?

Chapter #8 (page 70-72)
BUYING A BOAT LOCALLY, VERSUS FURTHER AWAY?
- Calculating the boat acquisition costs of close versus far.
- Tips for pre-viewing a potential boat from a distance.
- A pre-visit checklist to help inspect and evaluate boats.

Chapter #9 (page 73-77)
HOW OLD OF A HOUSEBOAT DO YOU BUY?
- A look at neglected boats, vs upgrades or buying newer?
- Analysis of your personal skills versus hired help.
- Requirements of insurance, financing, and marinas.


Dozens of money saving tips $

Chapter #10 (page 78-79)
WHAT'S YOUR HOUSEBOAT BUDGET?
- How to estimate & calculate your houseboat budget.
- What are the one-time and on-going expenses?
- What about the marina and winter storage expenses?
- An overview of an operating & maintenance budget.

Chapter #11 (page 80-89)
OPTIONS & EQUIPMENT YOU MAY WANT?
- Extra options like thrusters, generator, solar, propane, etc?
- Bonus – Pre-Visit checklist to organize your searches

Chapter #12 (page 90-95)
HOW TO FINANCE OR PAY FOR A HOUSEBOAT?
- How old of a houseboat can you get financing for?
- Overview of interest rates and monthly payments.
- Tips and sources to go about financing a houseboat.
- Will you need a marine survey to finance a boat?
- Do houseboats qualify for income tax deductibility?


Save months research & work

Chapter #13 (page 96-99)
WHAT ABOUT TRANSPORTING A HOUSEBOAT?
- Moving a boat locally, across states, or is it navigable?
- The transport heights, widths, permits and escorts.
- Transport preparation tips for the road or water.

Chapter #14 (page 100-103)
SHOULD YOU GET A MARINE SURVEY, AND WHY?
- Surveys for purchasing, selling, financing and insurance.
- Knowing the condition, value and recommendations.
- What are the general prices for a marine survey?
- Where can I find a marine surveyor, or more information?
- Should a marine mechanic do a mechanical inspection?

Chapter #15 (page 104-107)
WHAT ABOUT INSURING A HOUSEBOAT?
- What are the costs involved in insuring a boat?
- Can I insure an older steel or wooden houseboat?
- Where are some sources for insuring houseboats?
- What about winterizing and storing for the winters?


Family will LOVE a great boat

Chapter #16 (page 108-111)
HOW TO PICK A MARINA AND DOCK SLIP?
- What marina services should you look for?
- Choosing between various dock slips?
- What about covered and uncovered slips?

Chapter #17 (page 112-114)
WHERE TO FIND HOUSEBOATS FOR SALE?
* We show you places you never thought to look.
* How to find the best deals for houseboats for sale.

Chapter #18 (page 115-117)
THE DIFFERENCES OF WHO YOU'RE DEALING WITH?
- How to interact with the Marina Salesperson
- How to interact with the Boat Dealer
- How to interact with the Houseboat Factory
- How to interact with the Private Seller
- How are you going to deal/negotiate with them?


I'll share lifetime of experience

Chapter #19 (page 118-129)
THE CHOOSING, VISITING, AND BUYING OF A BOAT?
- Pre-visit checklist to organize and evaluate.
- The actual visit and pre-inspection stage.
- Time for the offer to purchase.
- The negotiation and counter-offers.
- The sea-trial, how she runs and rides.
- The marine survey and the surveyor results.
- The time for financing and loan options.
- Time to confirm an insurance policy.
- Getting the houseboat to your home port?
- Close the deal, the paperwork involved.
- Taxes, licensing, registration, documentation?

Chapter #20 (page 130-135)
HOUSEBOAT RESOURCES, LINKS, and BONUS FORM
- Where to find more e-Books & Videos
- Links to various boating courses
- Links for used houseboat-pricing guides.
- Bonus: includes an Offer to Purchase form


Grab the 2 free bonus ebooks
below before they're all GONE

* Today is , and we'll include (2) free ebooks for our website visitors.
We want to help all the boat buyers on the site, so we're including 2 free (but priceless) ebooks as a gift. It's our way to say thanks, and to give-back to our readers.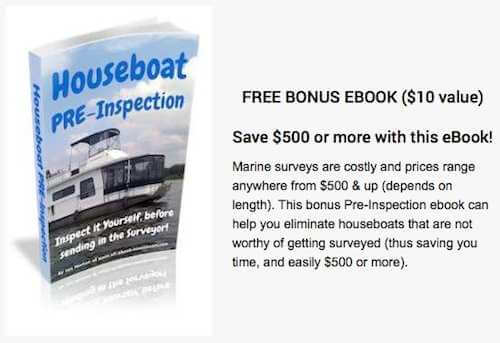 The 1st ebook, Houseboat Pre-Inspection is designed to help you first do a preliminary inspection yourself, before spending your money for a marine surveyor. This ebook can save you hundreds of dollars, by eliminating boats that you shouldn't bother surveying.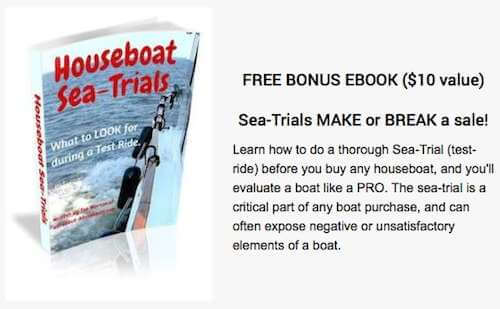 The 2nd ebook, Houseboat Sea-Trials is designed to help you identify what to look for, before and during the important test-ride. A critical step where 'boat-buying decisions' can often be made.
Testimonial:
"I'm looking at getting a boat, and this is the easiest way to make smart buying decisions."
Michel, Qc Canada
* For the PRICE of a DINNER you'll become
a buying PRO, and save thousands of $$$

Why choose a PDF version?
Get the PDF Version
Regular eBook Pkg Price is $58
* LIMITED TIME OFFER
Today, get all (3) ebooks, and save 53%
* Offer expires end of

Buy It Now, and get all
3 ebooks (a $58 value)
Get all (3) for $27
Want to Read It Right Away?

Use your credit card, or Paypal
* Click the ebooks for more details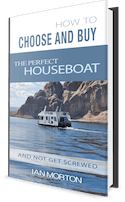 Comparable ebooks sell for $65 or more,
and downloaded copies.
100% Safe, 30 Day Guarantee
If you're not satisfied with this eBook, contact me within 30 days and I'll issue you a 100% refund.
Don't have PayPal account, no problem
You're LOOKING to get a boat, this ebook is your FIRST STEP.

Testimonial:
"I'm a first-time buyer, and the info in the book has saved me plenty of time & money".
Cindy from Texas.