A complete House Boat Plan is the difference between Success or Failure
This is Part-2 of House Boat Plan, go here to start at Part-1.
My late dad and I built a houseboat when I was young, and it was an experience that changed my life forever. It wasn't a "mega yacht" by today's standards, but was built with our own hands and lots of sweat.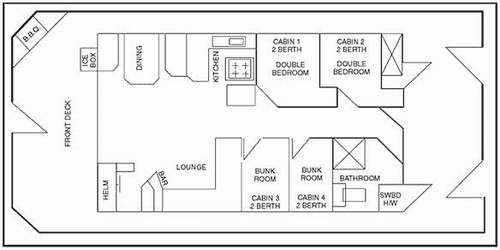 An overview of a house boat floor plan
There is
Pros & Cons to building your own
, and you have to fully understand all the various decisions and choices to be made such as:
construction materials, propulsion choices, plumbing, electrical, heating, equipment requirements, and Coast Guard requirements to name a few.
As you can see, in order for my Dad and I to build a boat,
we had plans
, and made many choices
before starting to build our dream house boat
.
New:
Speaking of dreams, I just finished reading a great book on a families
houseboat building experiences
, that I
really want to share it with you
.
---
So Many Decisions & Choices in Building Plans
---