Pontoon House Boats in Mississippi.
by Jeff
(Glen, Mississippi)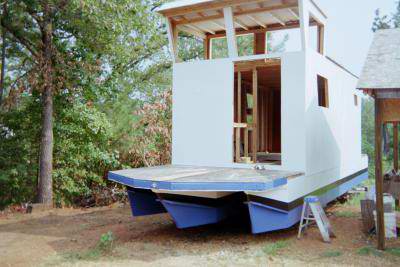 Is it a Pontoon, no, it's a Tritoon houseboat.
Why? It has been a 30 year dream. I grew up on the bayou in south Louisiana (houma) and first tried building a camp boat. I had the pontoons welded together out of 55 gallon drums and the deck down and had to move.
Three days later when I came back to pick them up to finish my project, I discovered that someone else probably wanted it more than I did, so now, 30 years later, I live in North Mississippi and I am building my own 30' tritoon houseboat.
The nearest water to me is the Tenn-Tom waterway, but from there I can get to the Tennessee river, or go south and hit the navigational canal and eventually back to my old stomping grounds in south Louisiana.
I've been building now on the 3-c's for 2 years, on and off. I hate working in the winter cause of the cold so I haven't done much this past 7 months, but it's time to get started again.
The middle pontoon is 30' long and the two outboard pontoons are 28'. It kinda gives the front deck a small V shape. I have a 4' back deck. The cabin will be 19' leaving only a 7' front deck.
I tried to give the top a look of a tug boat wheel house but decided to chop it down to where the top of the wheel house is only about 8" from
the top deck.
I still have a long way to go, but now that the weather is breaking I hope to go full throttle on my houseboat and hopefully have a launch date sometime in July. I'll send more updates later...
Jeff in Glen, Mississippi
Reply - Answer
Well Jeff, congratulations on taking on your houseboat project. The road to any destination is always ONE step at a time and you are surely on your way.
Lastly
, hopefully some of our readers and visitors will share and post comments about their tritoon houseboat building experiences and tips.
Feel free to use the "Click here to post comments." link found near the bottom of this page.
Thanks again for sharing, IAN from all-about-houseboats
More Information
Free Bonus Offer
To show our deep appreciation to all of our readers and visitors, here is the link to our free houseboat magazine, the INSIDER. Go ahead click the book and sign-up, it's free and filled with great articles, tips, information and website updates.