Building a Catamaran Houseboat - plans for a 80'x32' Salt Water Cat
by Warren Wagner
(Covington, La. USA)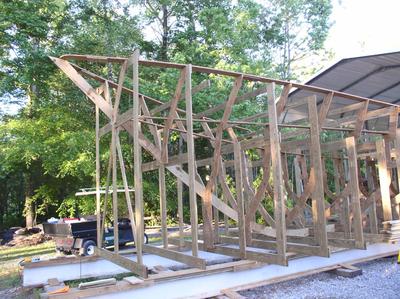 Catamaran Houseboat - constructing frame & mold
I have decided to build a catamaran houseboat since I have been looking for years to find just the right boat having come close a few times, however, the price has alway's been out of reach. Therefore, I decided to build what I could not afford to buy.


I started by building a plywood mold. I have had some experience in building fiberglass boats in the past but nothing of this scale, however the only real difference is that's its larger. One of my major concerns in planning its design was making certain that if caught in bad weather that its hull design would be very seaworthy.
Now that lamination is completed I am considering to either sell or rent the mold in order to help reduce some of the invested cost. The next step is to start joining the two hulls together and then build the superstructure on top of the 32x80 ft flat deck.
The boat will be powered with twin 405hp Cummins engines, interior layout will be pretty much a cross between a home and a typical motor yacht. Which I guess pretty much duplicates what most luxury houseboats look like.
Construction is thus far on budget, hoping to complete it for $300,000.00 with an anticipated launch date sometime this coming May.
This is one of the most fun projects I have ever attempted.
Yours truly, Warren Wagner
Reply - Answer
Warren, what a wonderful project and a major undertaking. I can see that you have planned the whole thing out well and the twin Cummings should push this baby just great.
Do keep us updated with the progress as there are many folks here that are
considering building a boat
, or that are actually
currently involved in building a boat
.
Lastly
, hopefully some of our readers and visitors will share and post comments about their catamaran houseboat building experiences and tips.
Feel free to use the "Click here to post comments." link found near the bottom of this page.
Thanks again for sharing, IAN from all-about-houseboats
More Information
Free Bonus Offer
To show our deep appreciation to all of our readers and visitors, here is the link to our free houseboat magazine, the INSIDER. Go ahead click the book and sign-up, it's free and filled with great articles, tips, information and website updates.