Houseboat Living in Sausalito California
A fun fact about Houseboat living in Sausalito California.
Did you know that Otis Redding was inspired to write the song, "(Sittin' On) the Dock of the Bay" while staying on a houseboat in Sausalito, California?
If that weren't inspiration enough to give houseboat living in Sausalito California a try, nothing may ever work for you.
While not everyone will experience the same level of inspiration Redding experienced watching the world go by from the deck of a Sausalito houseboat, it's quite likely that you can enjoy some degree of inspiration, relaxation, and recharging of your own.
Why Houseboat living in Sausalito California is Such an Appealing Location 
Whether you're considering a one-time houseboat rental or looking for a community that embraces the houseboat lifestyle, you'll find fewer places more houseboat friendly than Sausalito, California.
You will also find a wide range of marinas that offer berthing for houseboats or "floating homes."
In Sausalito, there each community is somewhat different. The same holds true for marinas.
These are some of the area marinas that may appeal to houseboat owners and fans as well as those trying them out for the first time to see if this is a lifestyle you can embrace.
None of the marinas listed above are heavy industrial marinas. They are all suitable for people who want to use their boats as homes or for recreation.
Whether you're enamored with the idea of houseboat living in Sausalito California lifestyle, believe this is taking the "tiny home" phenomenon to the next level, or you've just always dreamed of a life at sea and this is the next best thing, houseboat living offers a wide appeal to people from all social and economic groups as well as various cultures and backgrounds. 
Sausalito Attractions for Houseboat Dwellers
If you're going to explore houseboat living in Sausalito California, you must also commit to exploring the community. And there is much to offer.
While you can't experience Davy Jones' locker in Sausalito, you can dine at the Davey Jones Deli for sandwiches and salads made from locally sourced and (often) organic ingredients.
There are many other amazing restaurants to try in the areas where floating homes proliferate.
If you're looking for something new and exciting to try in the local area, consider SeaTrek for a variety of fun things including kayak rentals, guided kayak trips, and more.
You can also find a variety of Sausalito houseboats for sale online.
From budget-friendly no-frills options to opulent and luxurious homes featuring designer touches and countless creature comforts – not to mention stunning views, you are sure to find a houseboat option that meets your need and your budget.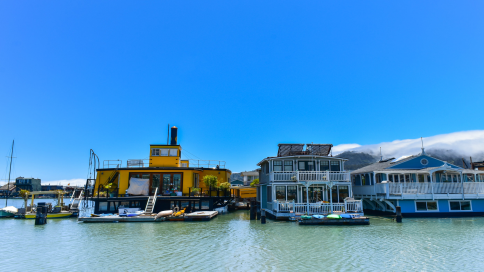 Houseboats floating on water on a sunny day in Sausalito, San Francisco Bay
Things You Should Know Before You Buy a Houseboat in Sausalito
There's nothing on Earth quite like the experience of going to sleep to the rhythm of waves gently rocking you.
However, these waves are not friends to everyone. A houseboat is certainly something you should try before you buy.
Even in protected marinas with low wave action, there are times when the water is choppy from wind, rain, and the wake of other boats traveling through.
This can play havoc for people who suffer from motion sickness. You need to see how your body will react before you buy a houseboat that does not work for you.
The other thing you need to know before buying a houseboat in Sausalito is where you're going to keep your new acquisition.
Buying a houseboat does not guarantee you the ability to keep it in the same marina, much less the same slip.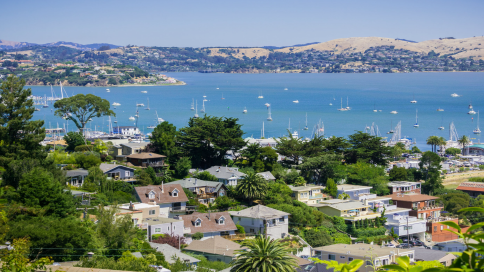 Aerial view of the bay and marina from the hills of Sausalito, San Francisco bay area
That can be good news – as it allows you to explore your options and find the best sense of community or "fit" for your needs.
It can also be a bit of a problem if you're looking to make a quick transition as it may take a while to find the perfect place for your houseboat's new home.
The marinas above are great places to begin if you're looking for something small enough to foster a sense of community among people who live aboard.
The other concern you may have is security. Security varies from one marina to the next.
It is one of the things you'll specifically want to ask about when making your plans to move into a particular marina.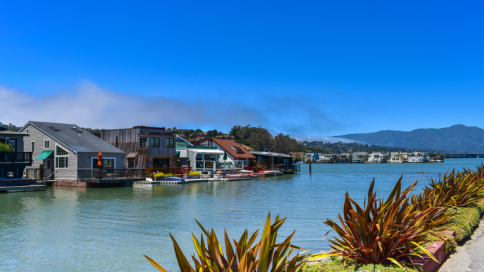 Houseboats floating on water on a sunny day in Sausalito, San Francisco Bay
The other one is parking. Many communities offer permitted and key card secured parking.
This means guests will have to obtain guest pasts and improves security to a degree.
Houseboat living in Sausalito California may take a few small adjustments along the way. For many people, who embrace the idea of living on a houseboat, there's nothing on earth quite like.
Fortunately, the weather is almost ideal for year-round for the enjoyment of the houseboat living in Sausalito California lifestyle and with so many active live aboard communities, you are sure to find one that's a good fit for you.
Like to Go to Part-1 of Houseboat Living Aboard
Like to Read Stories about Living on a Houseboat?
return to the top of Houseboat Living Aboard page
return to Houseboat Questions and Answers page
Continue Reading Our Popular Pages
Our collection of houseboat ebooks

We just love houseboats, do you?
Join our monthly HB Insider for free