Marine Composting Toilets for Houseboats
by Roger
(somewhere, fl)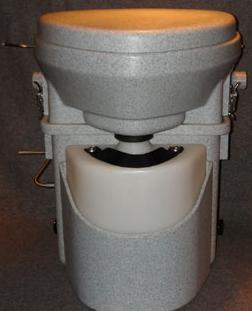 A common Marine Composting Toilet
Talking about houseboat marine composting toilets, and we still had an area that wasn't the way we wanted, and that was the "porta potti". It was smelly, and unpleasant to empty, so just a real pain.

The nice thing about the houseboat community is we often like to share experiences, and marine sanitation is often one of the main topics. There are a few houseboats that have composting toilets, and they all say that if you follow manufacturers instructions they will work well.

There are a few problems with them that can determine if one is for you. The physical size is always talked about as they do take up a lot of room, and cost is another factor. I was stopped by size as I just didn't have the room, but when I bought a new older houseboat, that all changed. I now have the room, but there was other areas that concerned me.

#1) the tray that holds the finished compost has to be monitored closely because if it gets too full, it's a mess to empty.

#2) liquid drain off is another area, since the liquid seeps through into the bottom, and has to be drained off. I've heard many ways, but not fond of them.

So I starting looking hard at different designs and found one that was more what I thought would be to my liking. This unit has a unique design in the bowl area that collects and drains liquid into a portable holding tank, it has to be used sitting down.

The one problem with it is it doesn't have a tray for the finished compost, so when you empty it the last addition hasn't had time to compost. It empties by removing the seat unbolting from floor then inverting it into a large trash bag then reverse process, add moist peat moss, ready to go.

There is no odor involved, but the unfinished compost was not what I wanted, so Ii built an on-board composter to finish off the toilet composting also to compost my galley garbage and in this I raise fishworms.

I'll show the design later on for my onboard composter. Here is the names of marine composting toilet manufacturers I know will work:

Sunmar, Biolet, Envirolet, Natureshead.

The choice is yours, but more on this later, got to get some fish worms to catch some dinner.

Just my thoughts, Roger (somewhere in FL)





Reply - Answer
What an excellent post Roger, since we all know that a smelly washroom can ruin a great day houseboating. I thank you on behalf of all our readers for sharing your experiences with composting toilets.
Lastly
, hopefully some of our readers and visitors will share and post comments about their houseboat composting toilets and the experiences.
Feel free to use the "Click here to post comments." link found near the bottom of this page.
Thanks again for sharing, IAN from all-about-houseboats
More Information
Free Bonus Offer
To show our deep appreciation to all of our readers and visitors, here is the link to our free houseboat magazine, the INSIDER. Go ahead click the book and sign-up, it's free and filled with great articles, tips, information and website updates.