Holiday Mansion Houseboat Living Tip #1
by Mark
(Columbia, SC)
Tip #1 for Living on a Houseboat is to have a "dual" redundant bilge pump system. It doesn't take much to "jam" a bilge pump and blow the fuse, and the effects can be devastating.


Especially on big houseboats, two pumps can really pay for themselves should a leak or a hose clamp let go. Nothing can ruin the holidays or your home than your house boat sitting "IN" 10 feet of water!
I guess Tip #2 would be to check that your properly insured...
Check those bilge pumps to see that they will work when needed.
Free Bonus Offer
To show our deep appreciation to all of our readers and visitors, here is the link to our free houseboat magazine, the INSIDER. Go ahead click the book and sign-up, it's free and filled with great articles, tips, information and website updates.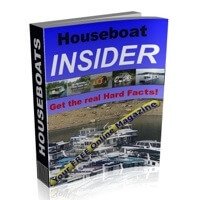 Return to Tips on Houseboat Living.
Continue Reading Our Popular Pages
Our collection of houseboat ebooks

We just love houseboats, do you?
Join our monthly HB Insider for free