Interested in Buying a Houseboat, Read before you Buy House Boats.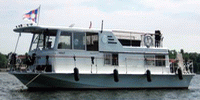 If you're considering buying a houseboat
then you must have a favorite type of houseboat that stimulates your desires.

There's New and Old boats available with "charm and style" depending on budget.

The search for that Perfect Houseboat is
an exciting time. It all begins with a Plan...


---
Commonly Asked Questions about Purchasing a Houseboat are:
Should you go looking to buy a New, or Used, Big or Small?


Do you look for one locally, on the Internet, or from a Dealer?


Do you get an Aluminum, or Steel, or Fiberglass?


What is the advantage of single, or dual motors? Gas or Diesel?


Which motor's are better, an Outboard, an Inboard, or Sterndrive?


How much does it cost to run or operate?


Should you build your own houseboat with house boat plans?



Can you liveaboard, and what are the regulations?


For more questions, have a look at our FAQ's Questions section.


You get the idea, a little time spent preparing can greatly reduce,
the time and money involved in searching for that perfect Houseboat.


Wondering which type, or model to consider ?
---
return to the top of Buying a Houseboat page

return to the Houseboat Questions and Answers page

return to Home Page of www.all-about-houseboats.com