Looking at buying a houseboat soon, read this before you buy any boats. 
If you're considering buying a houseboat then you might have a visual or favorite type of houseboat that stimulates your dreams. In a world where size matters, there's small, medium, and large sized boats to suit anyones needs, and for a variety of applications.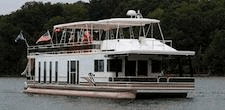 Now depending on your budget, there's new and old boats available with plenty of charm and style. The search for that perfect boat is an exciting time, yet it all begins with a very "focused plan".
Testimonial:

Hi Ian, your ebook and the wealth of information in it helped us immensely. We were just beginners and were scared about buying our first houseboat.
Thank you, Margaret and Peter.


Buying a Houseboat? Download it before buying!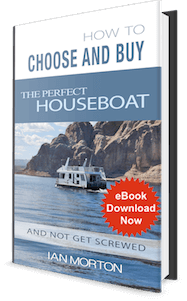 After a lifetime of buying boats, I can't stress the point enough, this book will totally reveal the tips and secrets you need to get started on the right track.
Anyone buying a houseboat should
download this ebook
as it's the fastest, easiest, and simplest way to become an experienced knowledgeable buyer!
Be a boat buyer that saves time, $$ money, and buys the right boat. It'll pay for itself 10x over, and it may even save your marriage :)
Sincerely, Ian of www.all-about-houseboats.com

---
Common Boat Buying Questions
Should you go looking to buy a New, or Used, Big or Small?
Do you look for one locally, on the Internet, or from a Dealer?
Do you get an Aluminum, or Steel, or Fiberglass?
What is the advantage of single, or dual motors? Gas or Diesel?
Which motor's are better, an Outboard, an Inboard, or Sterndrive?
How much does it cost to run or operate a mid-sized houseboat?
Should you build your own houseboat with house boat plans?
Can you live aboard on boat, and what are the regulations?
All the answers are found in the Ultimate Houseboat Guide.
You get the idea, a little time spent preparing a boat purchase can greatly reduce the time and money involved in searching & buying that perfect houseboat.


---
return to the top of Buying a Houseboat page

return to the Houseboat Questions and Answers page


Continue Reading Our Popular Pages
Our collection of houseboat ebooks

We just love houseboats, do you?
Join our monthly HB Insider for free