Floating Home Houseboat Cottages -
boats for affordable waterfront living
Are floating home houseboat cottages becoming a trendy way to live on the water? You bet they are, just like Tom Hanks in the movie Sleepless in Seattle, folks everywhere are discovering the advantages of this new lifestyle. Living on the water, literally waterfront property.
The price of these new houseboat homes for sale has now become so affordable that just about anyone can buy one. From anywhere between $135k to $295k you can
quote your own floating home on the water.
UPDATE: They now are built with ultra-low maintenance, highly durable aluminum hulls. You now get a much better hull, and lakefront property for a fraction of the current
unaffordable
waterfront real estate prices.
New Houseboat Homes - single or two-storey model boats
free 35 page color downloadable brochure
full of photos, specs and useful information.
Floating Home Cottages - affordable houseboat living
They are single and two storey styles with multiple bedrooms and configurations, some designed with guest rooms or home offices, others with multiple bathrooms or sun-decks.
These trendy baby boomer style homes that float are built at various locations around North America and can easily be shipped worldwide. Some are equipped with outboard engines to be self-motoring, others are simply towed to their final destination.
Download your free 35 page Color Brochure Now
Like to know more about these amazing
house boat cottages
, you can
download a completely free 35 page color brochure
that answers questions like models, sizes, warranty, specifications, layouts, pricing, shipping, locations, and a slew of other popular questions.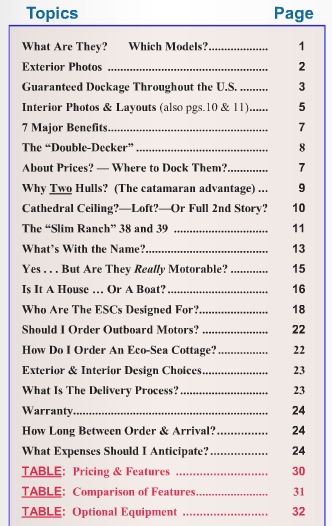 Don't Wait, take Advantage of Promotional Prices
From anywhere between $135k to $295k you can purchase your own floating home on the water. Don't worry, your information is safe with us.
What Other Visitors Have Said
Click below to see contributions from other visitors to this page...


New Floating Cottage Homes - the Harbor Retreat and Coastal Manor models
When it comes to affordable floating homes, the new floating cottages are a very inexpensive opportunity to own and enjoy the waterfront lifestyle. Today …
Return to the Top of Floating Home House Boat Cottages page
Return to New Houseboats from Floating Home Boat Cottages
Return to Houseboat Manufacturers page
from Floating Home Houseboat Cottages