Nautaline Houseboat trailer and weight
by Phillip
(Foreman, AR)
I have a 1968 33' Nautaline Houseboat V Hull Fiberglass ? What do you think it weighs? I am trying to buy a Houseboat Trailer for it.

Thanks for all your help, Phillip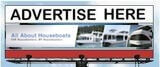 You can advertise here for pennies a day!
Are you a boating related business and want to increase sales and profits from targeted traffic?
Act now to get our 1/2 price sale, limited offer
Reply - Answer
Well Phillip, my neighbor had a very similar houseboat and it weighed @ 11-12,000 pounds. It was a 33 foot Nautaline Houseboat, however a 1970, which shouldn't make a difference.
Lastly
, hopefully some of our readers and visitors will share and post comments about their houseboat trailer and weight experiences.
Feel free to use the "Click here to post comments." link found near the bottom of this page.
Thanks again for sharing, IAN - from
www.all-about-houseboats.com
If you're still looking for information, you can try our
search function
, found at the bottom of the left Nav bar.
Free Bonus Offer

To show our great appreciation to all of our readers and visitors, here is the link to our free houseboat magazine, the INSIDER

Go ahead and sign-up, it's free and filled with great articles, tips, and information.
Don't worry, your email is safe with us.