The TOP-10 Houseboat Party Ideas
for the best of house boat parties!
The best Houseboat Party Ideas come from the basic human need to socialize, laugh, sing, and dance.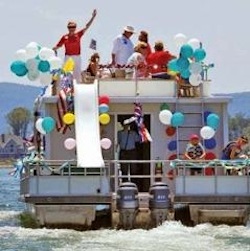 When you go to a party, you just want to let go of all your worries for a short period, and let out the
kid in us
so you can be truly free and enjoy yourself.
Do you want to have a great party that your guests will remember for years to come, so be sure to start with a good plan, and let go of your imagination and plan to have the Houseboat Party of the Year!



| | | |
| --- | --- | --- |
| | Houseboat Party Ideas | |
| | TOP 10 Houseboat Party Ideas | |
GPS Party
The TOP 10 best Houseboat Party Ideas.
As technology advances, so do the party themes, and this is a favorite amongst the nautical crowd. Nothing brings out the excitement like a GPS Party since everyone loves a good Treasure Hunt.
You'll have an excellent party atmosphere since everyone wants the challenge of finding the hidden prizes or clues. You can hide the treasures or prizes, or instead of treasures, it can be to identify various items located around the marina, like boat names, outboard models, etc..., to find.
You should prepare a sheet with clues, and the GPS coordinates to help the teams search and locate the hidden treasures. You can have divide the Treasure Hunts into multiple segments to be played throughout the party, and ending with a grand finale. The winning team can be the ones that find the most prizes or clues.
Have guests find, borrow, and bring Handheld GPS units.
Prepare a Clue sheet, with GPS Coordinates and hints.
Identify various items in the marina, or hide treasures.
Bigger Houseboat Party
The TOP 10 best Houseboat Party Ideas.
People love to get together to celebrate major events, and getting a BIGGER Houseboat is one of those scenario's that any Houseboater will be proud to share. The party can be based on any theme, since most guests will be curious and anxious to attend and share in this joyous gathering. If your looking for a theme, a new "House Warming Party" is appropriate.
A common selection of Music that is good for all ages
A BBQ is easy, and allows time for Houseboat tours
The usual decorative items, cups, plates, balloons
Don't-Say Houseboat Party
The TOP 10 best Houseboat Party Ideas.
You can have a Don't-Say Houseboat themed party/contest, which is based on a children's game, however with a Adult twist. When the guests arrive, they are given a small paper bag with small trinkets, candy, dollar store items, and they put their names on them.
The idea is that throughout the party, they will be forbidden to SAY certain Houseboat words. You will prominently display a board with the words that are forbidden such as Marina, Houseboat, Water, Dock, and any others that you choose. If the fellow guests catch them saying one, then they have to allow that person to pick an item out of their prize bag.
The host can decide the different times that the game is in effect, in order to spread this out throughout the party. The winner at the end is the player with the most prizes in the bags. It's hilarious to see grown people react like kids when they get caught. An easy party to prepare.
A display board for the DON'T-SAY Houseboat words
Contest bags filled with simple goodies and prizes
Usual decoration ideas, balloons, music, hats, etc...
Mardi Gras Party
The TOP 10 best Houseboat Party Ideas.
There is probably no greater recognized tradition than the MARDI GRAS parade. It brings out the festive attitude in everyone who attends, and makes for a memorable gathering for everyone. It ranks high with all.
To promote the party, have everyone prepare a simple party costume consisting of a Hawaiian style colorful shirt, and some funky colored beads, and you can supply different paper party hats to complete the Mardi Gras look. The finishing touch can be New Orleans style music.
Simple costumes like Mardi Gras themed shirts and beads
New Orleans style Mardi Gras music to bring the ambiance.
Mardi Gras style paper hats, cups, plate, and balloons
Nautical Karaoke Party
The TOP 10 best Houseboat Party Ideas.
A definite crowd pleaser is the Karaoke themed Houseboat Party since everyone loves to see neighbors, friends and family let themselves go with a microphone. It can sometimes take a moment before they start, but once they do, look out, let the party begin.
If you prepare in advance, you may find that someone in your entourage already has a Karaoke machine that they can let you borrow. If not, they are easily rented from your local rental store for very reasonable rates. As the party gets rolling, you may possibly discover the next American Idol?
A Karaoke machine with a suitable installation area
A selection of Karaoke coded music with lyrics.
Suitable stage, lighting, and a camera for the memories
Dinghy Race Party
The TOP 10 best Houseboat Party Ideas.
A favorite daytime party theme can be the Dinghy Race, since this awakens the "racer" in everyone. The day can begin with music and dancing for the kids, then a BBQ, then the main attraction , the annual DINGHY RACE.
You can ask the participants beforehand to decorate their dinghy's, and have them bring all the necessary safety equipment to the party. Some of the different race formats can be a Dinghy Rowing Race, or a Couples Dinghy Race, or a Dinghy Race in reverse.
In order to "handicap" some of the smaller/bigger outboards, try and time them doing one lap, and match them up accordingly. My wife and I have organized many Dinghy Races, and the event brings out a crowd on the shoreline that encourage, shout, and clap like they were watching real life Regatta's. As a bonus, be prepared to see "grown men" racing and acting like kids at a amusement park. PRICELESS !!!

Layout a course on the water with buoy's or balloons
A megaphone for giving instructions and race countdowns.
A chart to keep track of winners, who races, and who's next.
Season Opening Party
The TOP 10 best Houseboat Party Ideas.
Depending on your location, your marina may close down for the winter season, so a Season Opening Party is a crowd pleaser since everybody is primed for the new boating season.
You should prepare a simple questionnaire style sheet with a few questions that your invitees could fill out beforehand describing details about themes or activities from their 2 favorite parties that they have attended.
The idea is that at some point throughout the party, you can make a game discussing the different party's people have attended, which can stimulate or jogs everyone's memory, and can potentially start a new season filled with many more great Houseboat Party Ideas.


Prepare a simple questionnaire to help invitees describe party's
Ask guests beforehand to fill in and bring the questionnaire.
Typical party snacks, beverages, and decorations.
Boat Mortgage Party
The TOP 10 best Houseboat Party Ideas.
A great past tradition was the House Mortgage "burning" Party, where the proud new "Mortgage Free" Home Owners would throw a party, to mark the end of years of payments and freedom from the bank. As Houseboats can be considered "floating" homes, and that they can warrant a Boat Mortgage, this can make for an excellent party theme.
Since many houseboat owner's have some form of financing, possibly there is another guest that has recently finished paying for their boats, and would like to be included in the ceremonial "burning" tradition.
A sample Boat Mortgage document to "burn" at the party.
Be careful not to burn the REAL documents, you may need them
The typical party music, snacks, beverages, and decorations.
Roman TOGA Party
The TOP 10 best Houseboat Party Ideas.
In the ancient Roman/Gladiator era, the typical rich attire was Toga's (a simple bed sheet style robe, and sandals) that they wore to events. The fact that everyone is in Toga's, it creates a totally awesome party atmosphere that people need, to be able to unwind from time to time.
The beauty of a Toga Party is that the costumes are very well suited for those long hot summer nights that Houseboater's love and enjoy.
A large piece of cloth, or worst case a bed sheet.
Simple sandals, and a wreath style headgear
Possibly promote a Door Prize for the best costume
*NEW*
To learn more about Toga's, and how to make one, go to http://www.howtomakeatoga.info/
Flea-Market Party
The TOP 10 best Houseboat Party Ideas.
The Flea-Market Party Idea is designed to help jumpstart another event, which can be a Saturday morning Boat Flea Market for charity. The idea is that your invitees have to bring unwanted sellable boat items that they have in their homes, garages, lockers, or boats.
The items can be gathered to help prepare for a future event such as a Marine Flea Market held at the marina, which can later provide support for a neighborhood charity of your choice. The Flea Market party serves two purposes, it helps your guests clean out the "dead" storage, and helps promote and support a needy charity. A winner for everyone.
A simple sheet to describe Flea Market idea, and Charity
Organize a storage location for the items guests bring
A door prize for the largest guest charity contribution
Join our Houseboat Magazine
The TOP 10 best Houseboat Party Ideas.
The Houseboat Magazine is to help our reader's and member's,
to stay connected with the important events and happenings of the houseboating world. Think of it as your free personal monthly magazine, prepared by Houseboater's, for Houseboater's !
The Houseboat Magazine is FREE, and always will be?
It's a great way to stay up-to-date with articles and news?
Monthly updates of Tips & Tricks, and Product reviews
Be notified of deals, discounts, and specials available to you.
By subscribing, it allows us to get better deals for our members?
Your email is secure and private, it will never be sold or traded
YES, I would like sign up, and be added to the free Magazine.
Vote in the Party Poll
The TOP 10 best Houseboat Party Ideas.
The favorite Houseboat Party Ideas Poll is designed to allow our reader's to visually see which of the Top 10 ideas are the visitors favorites.
It only takes a moment to vote, so be sure to cast your opinion.


Which of the Houseboat Party Ideas is your favorite one?
return to top of Houseboat Party Ideas page.
return to Houseboat Questions and Answers page
Continue Reading Our Popular Pages
Our collection of houseboat ebooks

We just love houseboats, do you?
Join our monthly HB Insider for free