Where to buy a Pontoon Frame to Build your own Houseboat?
by Dave
(Zephyr Cove, Lake Tahoe)
Where do you go to buy a basic houseboat pontoon frame in order to start building my own houseboat? That is the question- I know what I want to do- as always, getting started is the difficult part.

Tell me if this makes sense- I want to buy a medium size (end product is 32-36 ft) pontoon house boat that I can "build out" to the houseboat I want (by the way, I think that's a good business idea in of itself). I'd like to hear back from all of you and thanks. Dave from Lake Tahoe.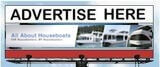 You can advertise here for pennies a day!
Are you a boating related business and want to increase sales and profits from targeted traffic?
Act now to get our 1/2 price sale, limited offer
Reply - Answer
Dave, that's a popular question since many of our readers are also considering building their own houseboat.
From what I've seen, U-Fab www.u-fabboats.com/ appears to manufacture a good set of pontoon tubes of different sizes and styles.
Hopefully some of our readers will post comments about where to also find some houseboat pontoons.
Feel free to use the "Click here to post comments." link found near the bottom of this page.
Thanks again for sharing, IAN - from
www.all-about-houseboats.com
If you're still looking for information, you can try our
search function
, found at the bottom of the left Nav bar.
Free Bonus Offer

To show our great appreciation to all of our readers and visitors, here is the link to our free houseboat magazine, the INSIDER

Go ahead and sign-up, it's free and filled with great articles, tips, and information.
Don't worry, your email is safe with us.