SeaArk Voyager and Nomad Houseboats
Looking to buy a used trailerable houseboat. I owned a SeaArk Voyager ( now called Nomad Houseboats ) and I liked it. Used it for several years and sold it with little depreciation.

What I didn't like was the high front to the wind when towing (used lots of gas), and the interior was somewhat 'cheap' looking, (though later models looked better).

The sleeping loft was too cramped for adults, but fine for kids. It had a 90 hp, 4-stroke Honda which was adequate. Would like to find a used Adventure Craft Houseboat or 26 ft. Lil Hobo Houseboat for a reasonable price.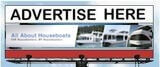 You can advertise here for pennies a day!
Are you a boating related business and want to increase sales and profits with targeted traffic?
Act now to get our 1/2 price sale, limited offer
Reply - Answer
When it comes to houseboats that you can trailer, these are definitely worth looking into. They are not the biggest boats around, but than again, you can trailer them just about anywhere, and easily back them down into a lake or river.
Lastly
, hopefully some of our readers and visitors will share and post comments about their trailerable houseboat experiences.
Feel free to use the "Click here to post comments." link found near the bottom of this page.
Thanks again for sharing, IAN - from
www.all-about-houseboats.com
If you're still looking for information, you can try our
search function
, found at the bottom of the left Nav bar.
Free Bonus Offer

To show our deep appreciation to all of our readers and visitors, here is the link to our free houseboat magazine, the INSIDER

Go ahead and sign-up, it's free and filled with great articles, tips, and information.
Don't worry, your email is safe with us.