Scuba Divers Dream Houseboat - dual jet drives for some underwater diving
by DiverDan
(Ontario)

Houseboat Jet Propulsion - marine hydro jet drives
If I was to design or order myself a new houseboat, it would include the following items. Since I am into scuba diving, these items would make it the perfect "base" for some great adventures:

> V-Hull
> Inboard, dual hydro-jet propulsion
> Fore & Aft / port & strb. thrusters
> Custom upper package including:

> Master suite
> Guest room
> Dive Locker
> Compressor / air & O2 storage room
> Maintenance-free exterior

Best, DSD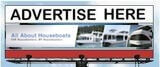 You can advertise here for pennies a day!
Are you a boating related business and want to increase sales and profits with targeted traffic?
Act now to get our 1/2 price sale, limited offer
Reply - Answer
Well DSD, I can see how your "dream houseboat wish list" would make it an ideal diving vessel. The jet drives would add an extra level of security, and the compressor / air & O2 storage room would be really handy.
If you do end up acquiring your dream houseboat, be sure to send us some pics, we would all love to see the whole installation.
Maybe with advances in technology, possibly there is a houseboat manufacturer that will be able to produce truly "maintenance-free exteriors"... :)
Lastly
, hopefully some of our readers and visitors will share and post comments about their dream divers houseboat equipment list and experiences.
Feel free to use the "Click here to post comments." link found near the bottom of this page.
Thanks again for sharing, IAN - from
www.all-about-houseboats.com
More Information
If you're still looking for information, you can try our
search function
, found at the bottom of the left Nav bar.
Free Bonus Offer

To show our deep appreciation to all of our readers and visitors, here is the link to our free houseboat magazine, the INSIDER

Go ahead and sign-up, it's free and filled with great articles, tips, and information.
Don't worry, your email is safe with us.