River Queen Houseboat - tips on restoration and rebuilding of boats
by Jon
(Saint Louis, Mo. US)
I have recently acquired a 1967 38' River Queen and the boat is actually in very good shape other than the roof over the front half of the boat.

Can someone tell me how the roof is constructed? I would like to know what I'm getting into before I start ripping things apart.

I was also wondering if I could strip the vinyl coating off of the cabin so it could be repainted.

All or any restoration/construction tips would be greatly appreciated. I want to thank everyone for posting some great information.

Thanks, Jon, Saint Louis, MO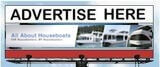 You can advertise here for pennies a day!
Are you a boating related business and want to increase sales and profits with targeted traffic?
Act now to get our 1/2 price sale, limited offer
Reply - Answer
Well Jon, congratulations on acquiring your River Queen, they are some of the finest steel houseboats still around.
As to the construction materials used in the front overhang, I am not really sure, so I will leave this to folks that have actually taken it apart.
Lastly
, hopefully some of our readers and visitors will share and post comments about their River Queen houseboat restoration and rebuilding experiences.
Feel free to use the "Click here to post comments." link found near the bottom of this page.
Thanks again for sharing, IAN - from
www.all-about-houseboats.com
If you're still looking for information, you can try our
search function
, found at the bottom of the left Nav bar.
Free Bonus Offer

To show our deep appreciation to all of our readers and visitors, here is the link to our free houseboat magazine, the INSIDER

Go ahead and sign-up, it's free and filled with great articles, tips, and information.
Don't worry, your email is safe with us.