How to repair houseboat pontoons that leak?
by Mike
(Ontario, Canada)
Can we repair a pontoon houseboat that leaks water into the round steel pontoons?

What I mean is, other than welding every little hole that leaks, can we maybe fill them up one of those "expanding foams" used to seal around windows etc...

The foam could expand and fill the pontoon interior, and even if it leaked a little, and took in a gallon or two of water, no big deal, there would still be a lot of buoyancy?

What do you folks think? Am I "out to lunch" and dreaming.

Looking forward to your replies, Mike.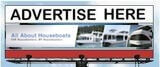 You can advertise here for pennies a day!
Are you a boating related business and want to increase sales and profits from targeted traffic?
Act now to get our 1/2 price sale, limited offer
Reply - Answer
Well Mike, sorry to hear about your leaking pontoon problem.
In respect to filling the pontoons with the "expanding foam", I had already thought of that with a inflatable dinghy that always had a pin-hole slow air leak. I figured that by filling it, I could eliminate any future leaks.
I thought about using the foam, but realized after buying a can, and testing how it worked, that it would be very difficult to completely fill the dinghy air chambers completely.
I imagine that each of your supposedly air-tight pontoon chambers is probably @ 2ft diameter x @ 5 ft long. It would be difficult to fill them completely, in my opinion.
So I guess I will say that I don't think you're "out to lunch" since I have also thought of the idea. :)
Lastly, hopefully some of our readers will share and post comments about their leaking pontoon houseboat experiences.
Feel free to use the "Click here to post comments." link found near the bottom of this page.
Thanks again for sharing, IAN - from
www.all-about-houseboats.com
If you're still looking for information, you can try our
search function
, found at the bottom of the left Nav bar.
Free Bonus Offer

To show our great appreciation to all of our readers and visitors, here is the link to our free houseboat magazine, the INSIDER

Go ahead and sign-up, it's free and filled with great articles, tips, and information.
Don't worry, your email is safe with us.