Houseboat Marinas - a potential favourite, Lake Murray in Oklahoma
by Richard Greene
(Oklahoma City)
We are still looking for a houseboat that suits our budget. Our favorite lake in Oklahoma is Lake Murray. The lake is spring fed and the level is consistent. Also, the lake is the second clearest in the state.

The problem with this lake is the boat slips are hard to come by. Most boats for sale are over priced because they are not only selling the boat but also the privledge of having the slip.

The marina is a full service marina with pleasant staff.

Richard Greene.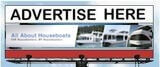 You can advertise here for pennies a day!
Are you a boating related business and want to increase sales and profits with targeted traffic?
Act now to get our 1/2 price sale, limited offer
Reply - Answer
Well Richard, I can understand you when you say that there is a shortage of docks in certain high demand areas, and your persistence will pay-off for sure.
I hope that you do find a houseboat within your budget, and do send us some pictures when you "find her"... :)
Lastly
, hopefully some of our readers and visitors will share and post comments about their houseboat marinas experiences.
Feel free to use the "Click here to post comments." link found near the bottom of this page.
Thanks again for sharing, IAN - from
www.all-about-houseboats.com
More Information
If you're still looking for information, you can try our
search function
, found at the bottom of the left Nav bar.
Free Bonus Offer

To show our deep appreciation to all of our readers and visitors, here is the link to our free houseboat magazine, the INSIDER

Go ahead and sign-up, it's free and filled with great articles, tips, and information.
Don't worry, your email is safe with us.