Houseboat Furniture - some table, bed, sleeper, sofa design layouts for boats
by Ken
(Spokane, WA)
We have a 2001, 41 foot Gibson houseboat and we love the boat but found this interior table (into bed) and sofa set up on another Gibson.

When it comes to efficient houseboat furniture, there are some designs and layouts that make great use of the available and limited space.

As in the picture above, we wonder who makes this - as it looks like it came from the factory. Any info would be greatly appreciated, Ken.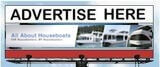 You can advertise here for pennies a day!
Are you a boating related business and want to increase sales and profits with targeted traffic?
Act now to get our 1/2 price sale, limited offer
Reply - Answer
Well Ken, congratulations on your 2001 Gibson, a fine boat it is.
As to the table, sleeper, bed, sofa combination in the picture, I think it did come from the factory. I presume a quick phone call and emailing of the picture would get the answer.
Either way, even if it didn't come from the factory, it appears to be a fairly simple project to build for someone with some tools, some space, and naturally some time on their hands.
Lastly
, hopefully some of our readers and visitors will share and post comments about their houseboat furniture, bed, sleeping arrangements and layout experiences.
Feel free to use the "Click here to post comments." link found near the bottom of this page.
Thanks again for sharing, IAN - from
www.all-about-houseboats.com
If you're still looking for information, you can try our
search function
, found at the bottom of the left Nav bar.
Free Bonus Offer

To show our deep appreciation to all of our readers and visitors, here is the link to our free houseboat magazine, the INSIDER

Go ahead and sign-up, it's free and filled with great articles, tips, and information.
Don't worry, your email is safe with us.