Free houseboat classifieds offers 1000's
of visitors, buyers, sellers a place to meet
The free houseboat classifieds are the #1 place on the internet to buy & sell houseboat (and houseboating related items).
We're visited by 1000's of people per week
, so the ideal location to buy a boat, or to sell quickly.

The right Place and Price, to Sell your Boat!
Free eBook Offer: Get the TOP 10 Selling Tips
Get yourself a free copy of



TOP 10
Selling Tips


Available free with your Paid Ad
This ebook has a $19.95 value.




TOP 10 Selling Tips
provides you with the information and techniques used by many professionals around the world. You will learn tips on how to prepare, market, and successfully finalize the sale of your boat. You can download this free eBook when you
place your classified ad.
---
Instructions to Place Classified Ads
Steps and Instructions for Placing Ads





#1 New User? Click the My Account, and Register For An Account

#2 Complete the details of your ad, and click the Post your Ad

#3 After posting your ad, on the next page, you can Add Photos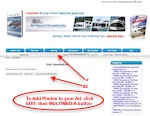 * Photos are worth a 1000 words, so
remember that after you click the
Post my Ad button, the following
page now asks you to choose and
upload your photo's or multimedia.
Click here for larger view of upload --->


* You will be able to click the free download link for the
Top-10 Selling Tips ebook link after paying for the ad.


Get yourself a free copy of



TOP 10
Selling Tips


Available free with your Ad
This ebook is a $19.95 value.




* If the free classified ads help you, a donation helps keep it free.





---
Why should you place your Ad here?
Because you want your boat SOLD!
Here are other features and benefits:
Thousands of high traffic visitors means targeted buyers.
Database Server stability, provides a high 99.9% uptime.
All visitors can browse, advanced search, and auto notify.
Monthly advertising in our Houseboat Insider magazine.
Large traffic exposure directly from the site home page.
The "houseboats for sale" page is our busiest category.
You can add, modify, edit, or delete the ad at anytime.
Get our free bonus, a Selling Tips e-book, a $19.95 value.
Prospective buyers can send emails, or by telephone calls.
Post a classified ad and you will receive the eBook below
for free, a $19.95 value. Our way to say, Thank You !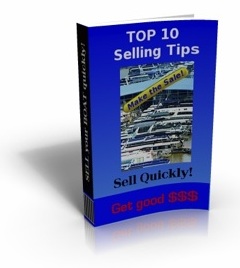 ---
High Traffic - over 1/2 million targeted readers!
The right Place and Price to Buy & Sell your Boat


With over 1/2 million visitors, the right buyer is only a click away!
Our Houseboat Classifieds are an excellent and simple way to get high traffic exposure, resulting in hopefully a quick sale. With
thousands of targeted visitors
looking for houseboats for sale, put your classified ad where the visitors and buyers are looking.
Why you want to place an ad in our classifieds.
We've built a huge website with over
1210 pages
of SEO keyword focused content. Our site is highly ranked in the search engines, and is very likely one of the first sites that internet searchers land on.
Statistics show we're found for over
28,434 keywords,
and coming from more than
2,510 referrers
like Google, Yahoo, MSN, and many other sources. Join us, and you get to display your ad out on the front line.
---
What TYPE of Prospective Buyers are there?

PRIVATE SELLER BUYER examples:
Are you a houseboat owner, or private seller and are looking for a high traffic, effective source for prospective buyers? The sites classified ads are the highest traffic topic on the website.


SERVICE INDUSTRY examples:
Houseboat loans & financing companies, marine surveyors, boat transport companies, boat storage companies, mechanics and repair businesses, houseboat marinas, and so many other service related businesses.


PRODUCT INDUSTRY examples:
Whether you manufacture or distribute equipment, parts, or supplies like engines, motors, stern outdrives, engine parts, dinghy's, small boats, electrical, mechanical, electronics, anchors, navigation, plumbing, safety, ventilation, heating, cooling, or miscellaneous equipment, this section is for you.


BOAT DEALERS, BROKERS, RESELLERS
You likely want to attract prospective buyers to your inventory of houseboats. You can showcase a different houseboat each month, or with multiple ads, you can advertise your used, new, or trade-in models.


HOUSEBOAT MANUFACTURERS:
Adventure Craft, Blue Water, Campanoe, Catamaran Cruisers, Desert Shore, Destination Yachts, Emerald Bay, Fantasy Yacht, Gibson Houseboats, Harbor Master, Holiday Mansion, Horizon Yachts, Lakeview, Majestic Yachts, Monticello, Myacht, Nomad Houseboats, Orca, Pluckebaum, Sharpe, Skipperliner, Stardust Cruisers, Starlite, Sumerset, Sunseeker, Sun Tracker, Sunstar, Thoroughbred, Three Buoys, Travelwave, Twin Anchors, Waterway, and others.


RENTALS INDUSTRY examples:
Are you looking after houseboat rentals and vacations, or possibly you have houseboat timeshares or shared ownerships available, this section is specifically made for you.


---