How to research and decide which houseboat manufacturer is for you!
After having owned, had rides on, and been on hundreds of houseboats, I can honestly tell you that each one had its own charm, style, and specific beauty. After 30 years of boating, and as I've always said, there's no such thing as a
"perfect houseboat", only the "perfect houseboat" for you!
You have many builders to choose from, but with a little research, you'll better understand which house boat manufacturer best suits your needs!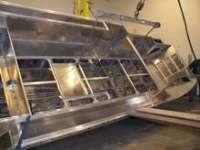 House boat manufacturer in
the process of building one.
---
Looking for CURRENT or PAST Builders?
If you wish you could see a
list of the Current & Past
houseboat builders, than you would want to see our A to Z list showing the "Past and Present" manufacturers.
Like to see a complete list of manufacturers & builders
.
---
There's so many Models and Makes?
How are you to decide which is the best suited "make or model" when it comes to choosing a manufacturer. There are
Trailerable
,
Pontoon
, Barge, Full Hull,
Catamaran
, Displacement, and Planning Hull types available.
If you are interested in getting a better idea, or to know the differences, than be sure to
visit our Houseboat Models page
.
---
Get Aluminum, Fiberglass, Steel, or Wood?
As you may already be aware, each of the different hull materials has it's own "pros/cons" that you should seriously evaluate. You want to look at the various issues of each such as maintenance, repair, strength, weight, and appearance.
To read more about each of the hull materials, and understand the benefits, you should have a
look at our Hull Construction page
.
---
What's better, a New or Used one?
Deciding whether it's better to get a NEW or USED one is a difficult question to answer. You're needs and wants are not identical as to the next person, so I would recommend you
read the NEW or USED Houseboat
.
---
go to Part-1 of Houseboat Manufacturers page
return to the Top of Houseboat Manufacturer page
Continue Reading Our Popular Pages
Our collection of houseboat ebooks

We just love houseboats, do you?
Join our monthly HB Insider for free