Are catamaran houseboats called a pontoon, a cruiser, or house-boats?
How to describe catamaran houseboats, it's a boat that consists of two, generally long narrow hulls joined together by a frame or mid-section. It's often made in a seamless mold which joins the two hulls together.
They have a wide beam that gives a very stable ride, efficient hulls, with good handling/docking characteristics, and handle best with dual engines.
FAQ's on Catamaran Houseboats
With dual engines this wide apart, it allows for better pivoting and maneuvering.
What is the typical "size and weight" of catamaran houseboats?
You will find that they weigh anywhere from 5,000-30,000 pounds, and range in length from 25ft-60ft, with 30-50ft being common and practical.
What "type of engines" do they have, single, twin, gas or diesel?
Depending on size and manufacturer, you'll find either inboard-outboard (I/O), stern drives, or outboards. If possible, a dual engine installation is preferable for better handling/docking. You will find both, gas and diesel.
Who are the "manufacturers" of catamaran house boats?
Some popular builders are PDQ Yachts, Catamaran Cruisers, Carri Craft. The common names are Vagabond, Aqua Cruiser, Aqua Lodge, Lil Hobo...
Are they good for "family getaways" to go swimming and fishing?
Because of space, storage, and features, these are excellent to use for all kinds of boating activities for small families looking to travel and explore.
Are there Aluminum, Fiberglass, Steel or Wood models made?
They manufacturer them from a variety of materials, and each material has its own benefits, and disadvantages. More info on construction materials.
Looking to buy, should you purchase a "New or Used" houseboat?
That's a good question. It all depends on your plans, budget, goals, needs, and your free time to search for a boat. For more info on a New or Used.
It's you're first boat, is a catamaran cruiser a good choice?
Good question, but if you looked at the "pros & cons list" you'll see that they are a very good model. If it's you're first boat, I would recommend you take a Power Squadron boating course, and find someone who can give you some hands-on training in handling, maneuvering and docking.

Catamaran Houseboats are generally twin hull design, with a tunnel in between.
What Kind of Equipment & Features
The Equipment & Features depends on whether it's a standard, luxury, or custom built model. The list below is a "typical" sampling of the basics that you would find onboard. The options available depend only on your budget.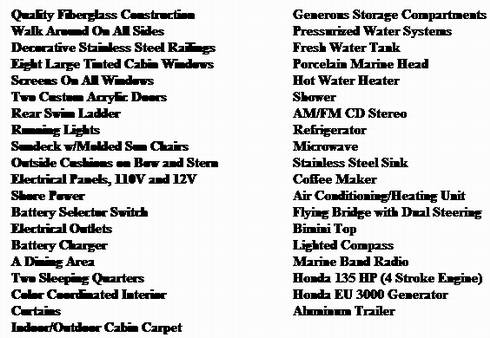 The PROS & CONS of Catamarans
There's no such thing as a perfect boat, but some are close to perfection. The list is to help you get an overview of the benefits and disadvantages. If you
sea-trial
a catamaran cruiser houseboat, you may never go back.
PROS
Hull gives smooth stable ride.
Twin hull design has less drag.
Less horsepower for hull speed.
Less horsepower = better MPG.
Dual engines = great handling.
Low maintenance fiberglass.
They steer & track very well.

CONS
Narrow dock slips are a problem.
Costlier transport due to beam.
Less popular than conventional.
As you can see, very few cons.
Signup for our free Newsletter/Magazine, and stay updated.
Return to the Top of Catamaran Houseboats page
Return to the Houseboat Manufacturers page
Continue Reading Our Popular Pages
Our collection of houseboat ebooks

We just love houseboats, do you?
Join our monthly HB Insider for free