There are houseboat designs for about any boating style or boat budget.
The subject of houseboat designs is never ending since style, function, and features are constantly added to provide improved functionality and practicality. They've improved incredibly since their humble beginnings.
The Basics & Terms used in Houseboat Designs
For a better understanding of the different terms and houseboat styles and designs found around the world, we've put together a small selection to show the differences. These are some of the basic houseboat styles.
---
Planing Houseboat
The advantages of a planning hull are that with enough horsepower they can get up on plane to achieve higher speeds.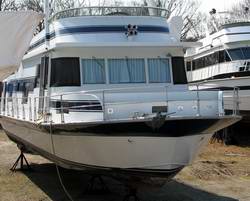 ---
Trailerable Houseboat
The
trailerable house boats
offer the best of both sides, considering the excellent functionality and transportability. Outboards are the common engine choice.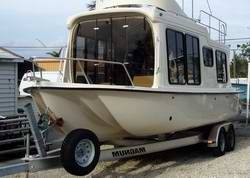 ---
Barge Style Houseboat
The barge hull style is a common model, yet offers plenty of storage space for personal effects and equipment.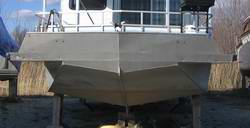 ---
Full Hull Houseboat
The full hull style is popular since it is full width and provides a very stable platform for many boats in North America.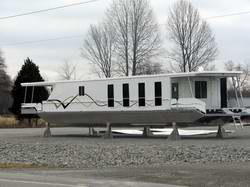 ---
Pontoon Houseboat
The
pontoon houseboat
can come in the twin pontoon, or the tri-pontoon design. You will see either outboards, or sterndrives. Note: The outdrive is not installed.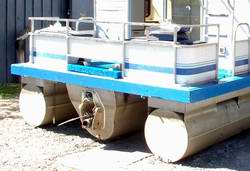 ---
Displacement Houseboat
The displacement style is an excellent choice for rough water, or long distance traveling. Diesel is a common engine choice for the economy and longevity.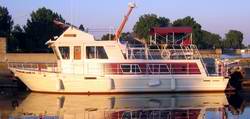 ---
Catamaran Houseboat
Catamaran houseboats
are less popular, yet offer unsurpassed economy and stability. Dual diesel engine installations are common.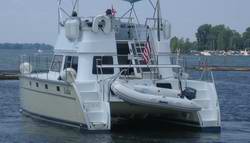 ---
Luxury Houseboat
The "twin level" houseboats have to be the ultimate in size, space, comfort, and luxury. There are many available as rental units.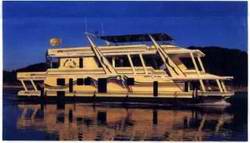 ---
Floating Home Houseboat
If simplicity and cost are a factor, than you'll find these
floating home houseboats
may be just for you. Great for fishing camps, or floating cottages.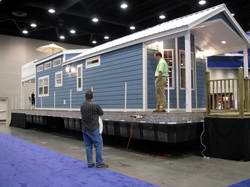 ---
Houseboat Propulsion Choices
You will find that gasoline is the most popular propulsion option whether in single or dual installations. Diesel fuel is also available, however it is less popular in certain parts of the world. You can find Outboard, I/O Inboard Outboard, and Sterndrives as the most common types of propulsion units.
---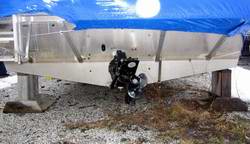 I/O Inboard Outboard
Outdrive or Stern Drives
Single Engine Sterndrive


Single engine installation is cheaper, yet provides less maneuverability.
---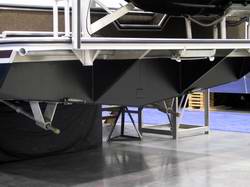 Single or Twin Inboard
Twin Engine Inboard


Propellers are "under" the boat. Note: The propellers are not on the shafts.
---
Dual Outboards
Twin Engine Outboards


Easy to maintain, and a dual installation provides great handling.
---
Mercruiser Stern drives
Dual Engine Outdrives


Mercuiser sterndrives are very popular, therefore parts are everywhere.
---
Houseboat Construction & Materials
If you're looking at Aluminum, Fiberglass, Steel or Wood Houseboats, each construction material has unique characteristics that have pros & cons. To read more about the different
houseboat construction material choices
.
Exterior Houseboat Designs
When looking at houseboat exteriors, you will find features such as Steps, Catwalks, Ladders, Water Slides, Front Decks, Railings, Fly Bridges, etc... Here's a sampling of different exterior features on some houseboat models.
| | |
| --- | --- |
| Houseboat Catwalks | |
| Railing with Catwalks | |
| No railing Catwalks | |
| Bow & Front Deck | |
| Flybridge Houseboat | |
| View from the Fly Bridge | |
| Ladder or Steps to go up. | |
Interior Houseboat Designs
Whether it's being used as a base fishing camp, a weekend getaway for a couple, or a luxury houseboat, there's an Interior for any taste or budget.
| | |
| --- | --- |
| ; | Open Interior Houseboat |
| | Lower Helm Interior |
| | Simple Galley Interior |
| | Luxury Galley Interiors |
| | Luxury Salon Interiors |
Return to Houseboat Manufacturers, from Houseboat Designs
Return to House Boat For Sale, from Houseboat Designs
Return to House Boat Plans, from House Boat Designs
Continue Reading Our Popular Pages
Our collection of houseboat ebooks

We just love houseboats, do you?
Join our monthly HB Insider for free