Week 06 - RV Road Trip all about Houseboats. RVing cross country.
by IAN from www.all-about-houseboats.com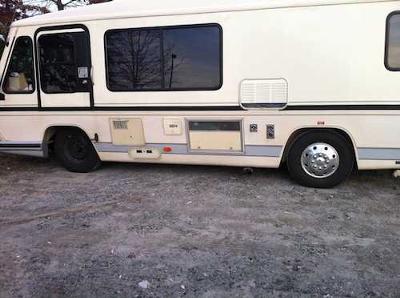 RV's & Houseboats - port starboard / driver passenger side?
Here is week 06 update of the RV Road Trip all about Houseboats, as we travelled from Tennessee to Georgia. The night time temperatures still hover between the mid twenties to the mid thirties Farenheight, brrrrr.....
When you are not plugged into 120 volt power everyday or boondocking in RV terms, and the cold temperatures at night require using the 12v batteries to power the very demanding propane furnace, you soon realize that maybe a big solar power installation is on my shopping list?
One of the advantages of RV's or houseboats is they have a large surface roof area to work with. This is why
RV's and houseboats are well suited for large solar panel installations
, I just have to tell Santa to bring me one as I have been "extra good" this year :)
Port or Starboard / Driver or Passenger Side?
The first picture above is my photographic reaction when I got out of the RV the other day. Can you tell what is missing on my driver side? Just like in houseboating, sometimes you realize that you lost a fender along the way. Apparently RVing through the country can cause the same reaction... Where did I lose that hub cap (wheel cover)?
Naturally we all start looking around just in case that we can see it nearby, but we all know that it could happened miles away and likely lost forever. I guess I can put a hub cap on the Xmas shopping list, just as
houseboaters have their own Christmas Shopping Lists.
Quality Pontoon Houseboat Manufacturer
The second picture above is of one of my memorable stops this week with a
top quality pontoon houseboat manufacturer
in Tennessee. That's where I met and spent an hour with Bryan the Pres/CEO as he showed around the plant and explained to me why his customers just love the way they build their boats.
He took the time to show me all the little construction details that help to build a better product, and how this relates to purchasing an excellent price/value combination that they can offer new houseboat owners. If you're contemplating
purchasing a new

houseboat, we can offer quick competitive quotes here.
Thrusters Installed in Pontoon Houseboats
The third picture above is of one of the great options that his customers are ordering is pre-installed
stern and bow thrusters
in his already extra large 42-46" diameter aluminum pontoons. By using only two extra large diameter pontoons, he can power them with smaller quieter 4 stroke outboards, and still fly quickly through the water.
The Cost of RVing or Houseboating?
The fourth picture above is of my very near future shopping list. When I looked at all the
parts, accessories or upgrades I wanted
to do, I quickly noticed that it could all be for either a RV or a houseboat for that matter.
In maintaining either a RV or houseboat we will generally have a toilet or head that needs changing (easier to change the whole thing, than those costly rebuild kits), or possibly change or upgrade the hot water tank electrodes that wear out, or maybe purchase a Buddy Space Heaters for those cooler corners.
Houseboat Transport - quick quotes available
One of my business projects on this trip has been to find the best houseboat movers in each region, and to work together with these companies to offer you the sites readers some of the most qualified and competitive shipping quotes possible. If you should ever need a houseboat transported, be sure to
use our Houseboat Transport Form here.
Lastly
, hopefully some of our readers and visitors will share and post comments about their RV or houseboat travel experiences.
Feel free to use the "Click here to post comments." link found near the bottom of this page.
Thanks again for sharing, IAN from all-about-houseboats
More Information
Free Bonus Offer
To show our deep appreciation to all of our readers and visitors, here is the link to our free houseboat magazine, the INSIDER. Go ahead click the book and sign-up, it's free and filled with great articles, tips, information and website updates.