Stern Bow Houseboat Thrusters in electric or hydraulic power models
When it comes to the
ultimate in boat control
, stern bow houseboat thrusters in electric or hydraulic power models are the only way to go. Whether you want an 8, 10, or 12 inch tunnel, single or dual props, these amazing puppies are
some serious toys for bad boys.
UPDATE:
New lower cost, easy install thrusters for houseboats up to 110 feet.
If you own a large houseboat like 40-110 feet, and you're tired & dread taking her out on windy days, or find it really difficult maneuvering her into slips or gas docks, you should seriously
consider a stern or bow thruster.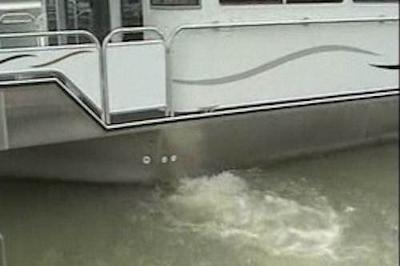 Houseboat Thruster Power - feel the thrust and control
I Love Using My Thruster ;)
I have a bow thruster on my houseboat, and boy, does it make a world of difference. It doesn't matter if you have a single or twin engine installation, any boat captain that has a thruster(s) will always grin from cheek to cheek when he pulls away from a tight slip, or does a 180 degree circle around any obstacles. This is how any big boat should handle.
ROI - Return on Investment / Toys for Bad Boys
You could spend your money on fancy radars, hydraulic swim platforms, satellite TV's, or extensive boat modifications, but nothing, and I repeat NOTHING gets a smile on a captains face (or his crew for that matter) as the power trip of swinging a huge houseboat like it was a 20 foot cruiser :)
When you install one, you no longer dread those difficult boating days, or those tight approaches to when arriving or leaving the dock. With the skills you already have, plus the huge amount of thrust in your bow or stern, you master any situation.
Did you know that used houseboats sell much faster when they have a bow or stern thruster installed, therefore the cost of your thruster installation easily recouped should you decide to later downsize or upsize your boat. A win-win situation either way.
Be the Envy of Everyone!
You know the feeling when the folks around the marina are watching you pull out, and you can now watch their mouths drop in awe, and than being envious of the way you make that boat dance... :)
That my friends is what a bow or stern thrusters does. Sure, I could get into the technical specs and the discussion about how many ft-lbs that dual counter rotating props generate, but that's for the logical side of the brain.
What I am saying, once you taste the POWER & CONTROL of that JOYSTICK, you will be hooked (addicted) forever. Even your spouse will congratulate you on your excellent and intelligent decision. (if she says YES, it's in the bag)
Yes, get one and be the King
Yes, I know that bow & stern thrusters can be a 5 digit addition to any large houseboat, but the return on investment is WORTH MILLIONS in pleasure! You have invested a lot into your boat, now go the extra mile, and get the ultimate add-on and treat yourself like a "king".
Treat Yourself to a Houseboat Thruster.
Return to the Houseboat Parts and Accessories page
Return to the TOP of the Houseboat Thrusters page
Continue Reading Our Popular Pages
Our collection of houseboat ebooks

We just love houseboats, do you?
Join our monthly HB Insider for free