Week 05 - RV Road Trip all about Houseboats. RVing cross country.
by IAN from www.all-about-houseboats.com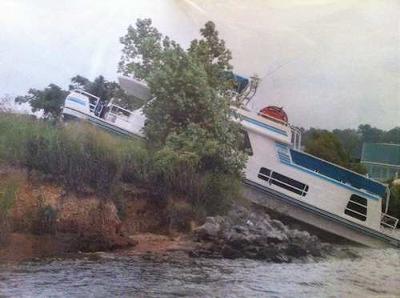 Houseboat Bloopers - what happened to the boat?
Here is week 05 of the RV Road Trip all about Houseboats, and I have to say that I am not sure which gets better gas mileage, Houseboats or RV's?


I know for one thing, the gas tank on the RV is 35 gallons, and I seem to be getting pretty familiar with its operation. A 23 foot V8 dodge RV gets @ 10 mpg, and if I remember correctly, the houseboat gets @ 1 gal per mile.
Driver or Captain
Either way, when you are the captain of a houseboat, or a driver of an RV, your days just seems to fly by. They both require
navigational skills
and I do count my blessings for having a GPS and navigation software (Navigon) on my iPhone. :)
I don't know how we used to drive cross-country with just a road map (now I am showing my age), but I can imagine that there would be many
turn around detours
with a road atlas.
There's Hills, and there's HILLS
I think about a week or two ago I mentioned the large hills in Kentucky, well I have to say that Tennessee has Kentucky beat in that department. I had a good laugh at a road sign the other day here.
The road sign said "Trucks keep right for the next 5 miles". I thought to myself, what is that all about? A long hill 5 miles long? A narrow left lane? Let me tell you, the sign didn't LIE, it was a steep climb for the next 5 miles just like the sign
said.
BIG HILLS can cause Panic & Glory
That 5 mile long climb did bring its moments of panic and glory. The panic when the temperature gauge went from 210 degrees all the way to 245-250 degrees, and I wondered if I should just continue up the hill and keep praying, or just pull over and let her cool down?
Well, she never blew a radiator hose (thank you Lord), however there was a flip-side moment on that long steep hill. I actually had to use the left lane and pass two 18 wheel trucks on that climb. What a
glorious moment for the old RV,
, passing two vehicles in the same day. :)
Needless to say the next day I washed the old girl, and fill her up with "super unleaded"..... she was a thirsty old gal ... :)
Lastly
, hopefully some of our readers and visitors will share and post comments about their RV or Houseboat Travel experiences.
Feel free to use the "Click here to post comments." link found near the bottom of this page.
Thanks again for sharing, IAN from all-about-houseboats
More Information
Free Bonus Offer
To show our deep appreciation to all of our readers and visitors, here is the link to our free houseboat magazine, the INSIDER. Go ahead click the book and sign-up, it's free and filled with great articles, tips, information and website updates.