Week 00 - RV Road Trip all about Houseboats. RVing cross country.
by IAN from www.all-about-houseboats.com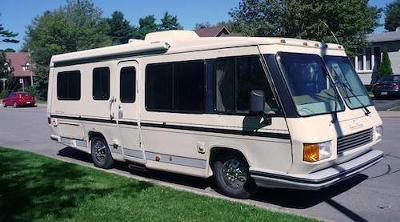 RV Road Trip all about Houseboats - Amera Coach RVing
The beginnings of the RV Road Trip all about Houseboats came about from a lifelong desire to travel and the joy of meeting new people. Since I accomplished one of my dreams, to live and work from a houseboat for the last decade, my next dream was the following.


How could I combine the dream of travelling throughout the country and work at the same time? I came up with the brainstorm idea (or brain fart, as some say) at 1:00 am one morning when I was contemplating the "meaning of life".
You know when you pass 50, or at least it was in my case, you say to yourself, where did the last 30 years go? There was a lot of things going on in life, I had lost the passion for my 30 year sales career, Manon had just passed away, I was starting to feel old and I still had that
little kid in me
, so I decided to make some big changes.
This is where I decided to start "loving my work" and start working from an RV on the road, and continue building All about Houseboats while travelling to meet the People, the Places, and the Businesses that make the houseboating world happen.
Part of my business plan is that I will along my travels stop and meet the
marine related businesses that want to grow their customer base
due to our websites growing 500,000 yearly readers and visitors.
The next step is when I decided to pick up a used Amera Coach RV motorhome that you see in the pictures above, and refurbished her for a 6 month cross-country journey.
She's fully equipped to live in and work on, a complete mobile office with 4G (where available) or 3G Internet access just about everywhere (thanks Verizon). Zoey my dog even has her own captains chair on the passenger side for the ride... :)
The RV's a compact 23 ft Class A with fiberglass
shell, has a Dodge 360 V8 with A727 transmission, with a 4kW Onan generator, full shower, dual fridge freezer, and I only wish she got better gas mileage ... :)
Follow Us and Guess Where the Pictures are Taken?
Now back to the RV Road Trip, all this work and no play sounds a little tiring, so lets all have a little fun. Since everyone loves to play occasionally, lets
PLAY a GAME
. Games are fun and can make you laugh, and we all know that laughter is great medicine for the soul.
Each week I will add four (4) new pictures to my weekly update. If you know where the picture was taken, let me know in the comments section at the bottom of the page.
So, if you happen to spot my RV in your daily travels, please honk, wave, or just plain say Hi, as I would love to know that you follow the website or are houseboaters. Don't worry if you don't spot me, you can always share your thoughts or comments at the bottom of these articles.
You can continue on and
follow my first weeks RV Road trip all about Houseboats adventures here.
Lastly
, hopefully some of you readers and visitors will share and post comments about their RV or Houseboat travel experiences. You can share any tips, tricks, or information that can help me :)
Feel free to use the "Click here to post comments." link found near the bottom of this page.
Thanks again, IAN from all-about-houseboats
More Information
Free Bonus Offer
To show our deep appreciation to all of our readers and visitors, here is the link to our free houseboat magazine, the INSIDER. Go ahead click the book and sign-up, it's free and filled with great articles, tips, information and website updates.