Used Houseboats For Sale in Florida - Any Tips to help Sell my House Boat?
by Jeannine
(Naples, Florida)
There's plenty of used houseboats for sale in Florida, and I'm looking for some tips or ideas that can help me sell my house boat?

I have a 1999, 41' Gibson houseboat, a Cabin Yacht model here in Florida, and I am trying to sell it on my own. It's a good boat in great condition, and not many hours on her. Do you have any suggestions?

Thank you, Jeannine, Florida



Reply - Answer
Well Jeannine, welcome to the houseboat forums, and I'm sorry to hear that you want to sell your boat. Let's start off by looking at some of your choices in regards to selling your house boat.
Houseboat Classified Ads :
One of the highest traffic websites for prospective buyers has to be the
All-about-Houseboat Classifieds
. If you are wanting to sell your houseboat quickly, the website receives over 1/2 million visitors a year, and buying a houseboat is one of the most active topics.
As an added bonus, get yourself a
copy of the Top-10 Selling Tips ebook
.
Brokers :
You can use the services of houseboat brokers to sell you boat if you're limited for time, or find that you don't want to deal with all the questions, details, and visit requests. The one obvious downfall is that there is a small percentage commission charge for selling your boat, yet they can sometimes because of their greater market exposure and expertise, generate a higher selling price.
Houseboat For Sale by Owner :
The other alternative is to sell your boat on your own, which has plenty of advantages. One of the biggest advantages being that you too can properly market your boat, and this combined with your knowledge and history of the boat, have it sold quickly for a mutually satisfactory selling price.
When it comes to selling a houseboat, it helps to look at it from a prospective buyers point of view. This can give you ideas on the areas that they will see and be looking at. Just remember, it may take 1 day, 1 week, or 1 month or longer, but that it only takes one serious prospective buyer, and when a boat buyer wants a boat, the rest of the process goes quickly.
Some of the Things to Look at and Consider :
* Is the boat Clean and in Working Order?
* Serious Buyers will want to do a
Sea Trials?
* Do you have a Log Book, Receipts, Papers?
There is different ways to market or advertise your houseboat.
* The simplest when it comes to visibility, is to put up a few Houseboat For Sale signs in a few of the windows.
* Post an ad and description on the marina office billboard.
* Swing by the the other local marinas nearby, and place it on their billboard.
What about Internet Advertising :
When it comes to internet advertising, you will want to place an ad on some of the the
popular houseboat for sale sites.
If you are more inclined for free or almost free alternatives, have a look at sites like eBay, Craigslist, and such...
If readers are looking at buying a houseboat?
If you're thinking of buy a used houseboat for sale, there's an excellent book that I highly recommend since purchasing a used houseboat maybe amongst one of the biggest investments that you make.
The tips and secrets in this book can potentially save you thousands of dollars (a good thing), and may also save you weeks or months of headaches and hassles (another good thing). You need and deserve the knowledge and tips found in the
buying a houseboat book.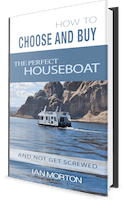 It's Sold, Closing the Sale :
Don't worry Jeannine, take it all one step at a time, and before you know it, you will be signing a sales contract with the new houseboat owners.
Lastly
, hopefully some of our readers will share and post comments about their houseboat for sale tips, ideas, and experiences. Feel free to use the "Click here to post comments" link found near the bottom of this page.
Thanks again for sharing, IAN from all-about-houseboats
Free Bonus Offer
To show our deep appreciation to all of our readers and visitors, here is the link to our free houseboat magazine, the INSIDER. Go ahead click the book and sign-up, it's free and filled with great articles, tips, information and website updates.