Marine Electric Water Heater for Boats, 6 gallon, heat exchanger, 120v
When it comes to a Marine Electric Water Heater for Boats, these low cost 6 gallon hot water heaters are a quick and simple way to supply hot water to your kitchen, your bathroom, or your shower.
The 1500 watt element allows for installation on a 15amp circuit breaker, and also for quick hot water recovery times when you have high water demands.
These water heaters are powered by your 120v shorepower, or also via the heat exchanger connections to use the energy from your engines cooling system to heat the 6 gallon tank.
Let's look at the product description, some technical specifications, and how you can buy it now.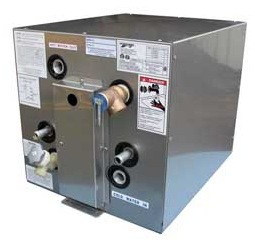 Hot water heater found on houseboats.
---
* Product Description & Specifications
Enjoy hot water heated dockside with 120V AC power or with engine heat when underway.
Heaters feature a marine-grade aluminum case and cladded aluminum tank with 1500W heating element and large diameter, dual-loop heat exchanger.
Circuitry is ignition protected, and each heater includes a high-temperature limiter with automatic reset.
All plumbing and electrical connections are "front" located. Use of a magnesium anode is recommended to extend tank life.

Optional magnesium anode to extend tank life
Available at the bottom of page
* Specifications
* Capacity: 6 gallon
* Heat Exchanger Ports: Front
* Mounts: Front/Rear
* Dimensions: @ 13 x 13 x 19
* Port Sizes: Cold/hot in/out: 1/2" NPT,
Engine coolant in/out: 5/8" (for hose)
* Draw: 12.5A @ 120V AC
* Approvals: ETL
* Warranty: One year against manufacturer defects
wm-11811W
---
* Buy It Now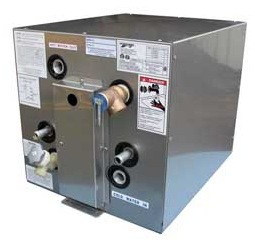 Note: please allow @ 1 week for free shipping.
Purchase this Marine Water Heater here.
Reg: $393 Now on Sale for only $312

Optional magnesium anode to extend tank life


Purchase this Magnesium Anode now.
Reg: $31 Now on Sale for only $23











---
---
Terms and Conditions
Please consult our terms and conditions for the latest details on our return policy, free shipping, exceptions, pricing, or availability, etc.



---
---
Return to the Houseboat Parts and Accessories page
Return to the Houseboat Liquidation Center page
Continue Reading Our Popular Pages
Our collection of houseboat ebooks

We just love houseboats, do you?
Join our monthly HB Insider for free