Marine Electric Toilets for Boats, 12 volts, macerator, dual function pump
When it comes to Marine Electric Toilets for Boats, it doesn't get any better or simpler than just being able to press a button, and have your waste macerated and discharged into your holding tank.

When comparing a manual toilet versus an electric head, your guests and especially the ladies on your boat will surely thank you for eliminating all the work involved in pumping a manual head. Let's look at the product description, some technical specifications, and how you can buy it now.
Deluxe large bowl electric toilet for houseboats

* Product Description & Specifications
Large Bowl - Deluxe Seat & Cover - 12v. Switch Box Included. Suitable for above or below waterline installation.
The electric marine toilet comes with a compact white vitreous china bowl and has a household style seat and lid. The dual function pump eliminates the need for dry bowl valves and hand pumps. With the simple push of a button, the self-priming flush pump rinses the bowl as the macerator and high capacity scavenger pump grinds up waste and pumps it out.
Included with the toilet is a heavy duty push-button switch, and a 1" to 1-1/2" hose adaptor for the discharge hose. Can be installed above or below the waterline. No need for an external macerator pump.
- BOWL DIMENSIONS (LxWxH): 19" x 14.4" x 14.8"
- FITTINGS: INLET HOSE 3/4" dia, OUTLET HOSE 1" dia
* NOTE: standard installation is not allowed with pressurized water installations. In this case, you need to install a solenoid valve. (We do not sell one)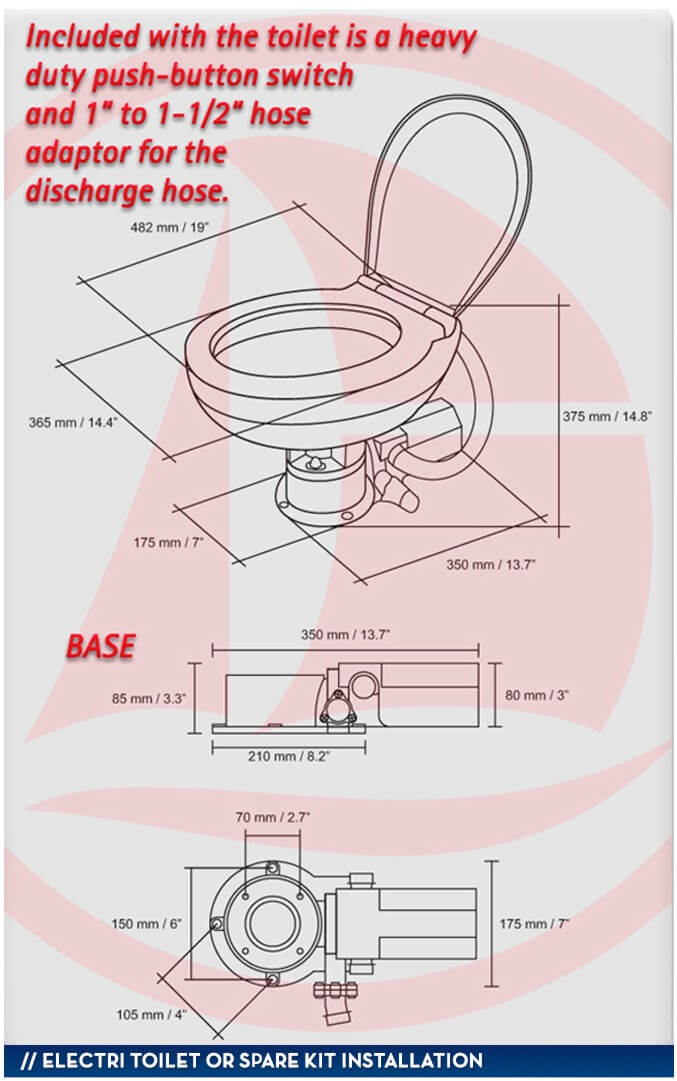 Installation Info & Details
Installation BELOW water line (with electric loop)
Installation BELOW water line (with manual/vented loop)
Installation ABOVE water line
Components - changing kit

* Buy It Now

Purchase this 12 volt Electric Toilet here.
Reg: $523 Now on Sale for only $394
Note: please allow @ 1 week for free shipping.

---
---
Terms and Conditions
Please consult our
terms and conditions
for the latest details on our return policy, free shipping, exceptions, pricing, or availability, etc.
---
---
Return to the Houseboat Parts and Accessories page
Return to the Houseboat Liquidation Center page
Continue Reading Our Popular Pages
Our collection of houseboat ebooks

We just love houseboats, do you?
Join our monthly HB Insider for free