Marine Electric Horns for Boats, 12 volt, 9 or 11 inch, single or dual sets
When it comes to Marine Electric Horns for Boats, there's nothing easier and simpler to install than these 12 volt single or dual trumpet horns. Unlike air horns, there's no compressor or air lines to run, you simply have to connect 12 volts to them.

These 12 volt horns produce a very loud, sweet blast of sound and have a 105 dB sound rating, so that you can be heard in any situation especially when it's important. Let's look at the product description, some technical specifications, and how you can buy it now.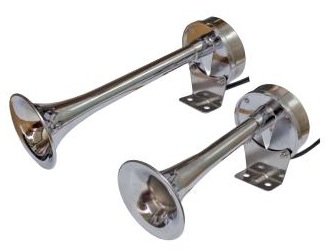 12v Marine Electric Horns, 9" and 11"

* Product Description & Specifications
These 105 dB electric horns are made with a non-magnetic stainless steel diaphragm and a tough ABS trumpet, what gives them great quality and beautiful bright finish that will not rust at the best price in the market.
Designed for exterior use they are really light, what makes them ideal for boats in a salt water environment. Ideal to be used on boats, trucks, RVs and all other 12-volt vehicles in almost any weather condition.
These horns are maintenance free and do not require a compressor or hoses, saving time and money. They are available in individual horns and a dual packaged set which includes both the 9" and 11" horns together.

* Specifications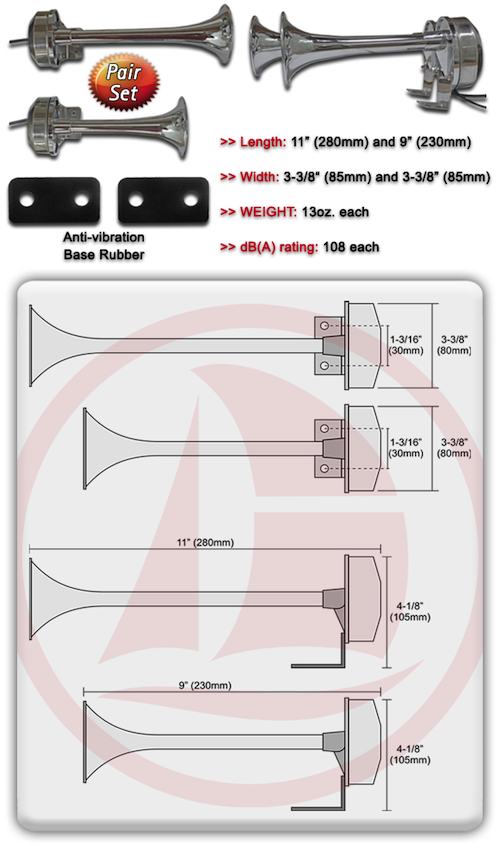 * Buy It Now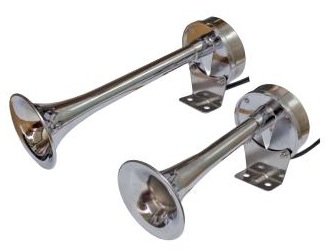 12v Marine Electric Horns, 9" and 11"
Purchase this Marine Electric Horn here.
9" Horn is Reg: $88 Now on Sale $64
11" Horn is Reg: $89 Now on Sale $65
Dual Kit is Reg: $133 Now on Sale $98
Note: please allow @ 1 week for free shipping.

---
---
Terms and Conditions
Please consult our
terms and conditions
for the latest details on our return policy, free shipping, exceptions, pricing, or availability, etc.
---
---
Return to the Houseboat Parts and Accessories page
Return to the Houseboat Liquidation Center page
Continue Reading Our Popular Pages
Our collection of houseboat ebooks

We just love houseboats, do you?
Join our monthly HB Insider for free