You're looking for a Houseboat Show, there's an Expo & Boat Show for you.
If a houseboat show is on your agenda, and you'd like to look at some new houseboats, or possibly find a good used one, or looking to upgrade, or want some new accessories, than you're at the right place.
Houseboat Expo & Convention Center
What's at a Show for Houseboats?
Are you curious about what happens at a house boat show? You will be directly in the middle of all the action, with many knowledeagble people from all aspects or corners of the industry. You can find everything and anything related to houseboating, and below is a small list of things like:
Never been to a boat show before, would you like to
read what others have said about them before planning the trip?
---
The National Houseboat Expo show.
Since one of the largest houseboating capitals of the world is in Kentucky, it's only appropriate that the world's largest house boat show would be held there.
The
National Houseboat Expo
is one of the older shows, and has been running since @ 1999, and is run by
Harris Publishing
, the Houseboat Magazine division. The Louisville Exposition Center is an ideal location since it's capable of handling very large boats.
This year there is a
"On Water Show" at State Dock
, which is being held on June 10-11-12, 2016.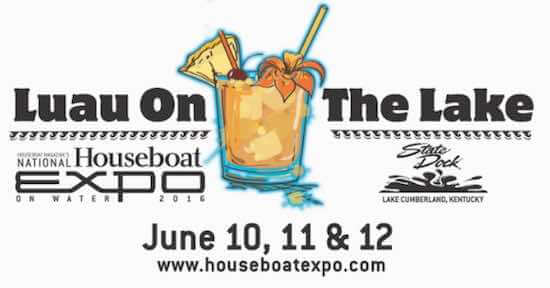 National Houseboat Expo - IN WATER SHOW
This year there is a ON WATER SHOW being held at the State Dock Marina on Lake Cumberland, in Kentucky. The date is June 10-11-12, 2016. You can find the
information about the On-Water Houseboat Expo here.
---
The International Houseboat Fest show.
When it comes to house boat shows, there is nothing better for the public than some friendly competition. And that is exactly what has happened, there's a new Houseboat Show in town! This show is organized by the
NMMA - National Marine Manufacturers Association
and is gearing up to be a big hit amongst the curious visitors.
The date of the first big show is Jan 29-31, 2009. and it is being held in Louisville KY, one of the houseboating capitals of the world. Don't miss the
International Houseboat Fest
, be sure to book your tickets now. We hope we will see you there.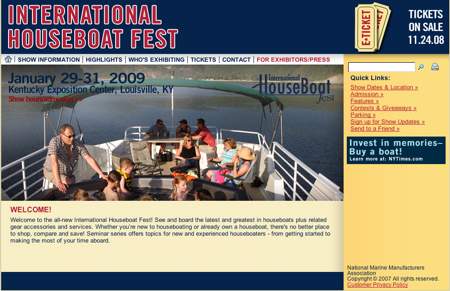 Free Houseboat Seminars - The three day event will have free houseboat seminars and information for its houseboating visitors, and they are being presented by yours truly, Ian from all-about-houseboats.com
---

What Other Visitors Have Said
Click below to see contributions from other visitors to this page...

Return to the Top of the House boat Show page from here.
Return to Houseboat FAQ's Questions, from the Houseboat Show page
Houseboat Show #2
To import other temp pics/carousels.
Continue Reading Our Popular Pages
Our collection of houseboat ebooks

We just love houseboats, do you?
Join our monthly HB Insider for free