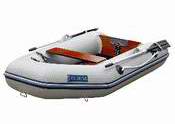 Inflatable Dinghy uses: Inflatable Dinghy's are great for those quick trips to shore, or to go fishing, or really fun to have on those hot sticky days just to get out and zip around the lake and cool off.
Quick & Easy: At times you'll enjoy the dinghy just as much as your houseboat, since these inflatable dinghies are so easy and quick to get untied and out on the water. Great for a scoot around the marina, or to watch the sunset.
Dinghy Race Day: My wife and I have been organizing an annual dinghy race day to help promote water sports and safe boating. It attracts children right up to grand fathers who want to partake in the obstacle course and races. It's priceless to see grown men become "kids" for a day!
Great Activity: Because of the dinghy races we have seen a large increase in people buying themselves a dinghy or zodiak and thanking us for introducing them to this new water activity.
Dinghy types: You will find different styles ranging from 6 ft models right up to commercial boats of 30-40 footers. Some models are inflatable floors, some are multi-panel floors, while some have hard rigid fiberglass floors. There's basically two types of material that is used, either PVC or Hypalon, and each has their advantages.
Dinghy propulsion: You will find some that use oars or paddles as their primary means of getting around. Typically used to get around boats at anchorage. Moving up a notch comes the gas powered outboard engines, ranging from 1hp up to 30-40 hp for a large-sized boats.
You will find 2stroke engines in the older motors (mix the gas & oil), and the newer 4stroke models. The newer 4strokes are fuel efficient, clean burning, and don't require the mixing of gas & oil.
What's Best? This depends on what your usage intends to be?
Do you want to stay close to the boat, or travel some distance?
How many people do you plan on carrying, groceries, transport?
Get the proper engine HP in order for the boat to get up on plane.
Decide if you want to tow the dinghy, or deflate and store it?
Choose an model big enough for people, fuel, activity, and cargo?
Do you want an inflatable floor, multi piece floor, or rigid floor?
There's rear tiller models, and one's with center steering consoles.
If you're thinking of purchasing a dinghy, this is where I bought some of my Inflatable Water Toys
, they have good prices and great service.