Gibson Houseboats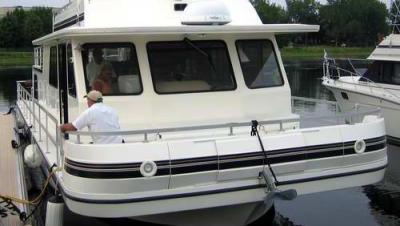 A great bow on Gibson Houseboats.
We chose Gibson houseboats because of the space, speed, and the comfort they provide. I can cruise at hull speed, or I can put the throttles down and get up and go at planing speed to get away from incoming storms.


One of the major advantages of a
new Gibson houseboat
is that they have a good sized catwalk so that my wife can easily get around the boat for docking purposes, which makes my life much easier.
It has a good sized cuddy cabin down below, so we can have guests stay over for those weekend parties, and they can sleep in comfort without feeling like they are in the way.
Overall, my wife and I love our Gibson house boat.
Feel free to use the "Click here to post comments." link found near the bottom of this page.
More Information
Free Bonus Offer
To show our deep appreciation to all of our readers and visitors, here is the link to our free houseboat magazine, the INSIDER. Go ahead click the book and sign-up, it's free and filled with great articles, tips, information and website updates.