All About Houseboats is mobile friendly with website version for mobile smartphone users.
Now that All About Houseboats is mobile friendly we can now meet our visitors insatiable demand for "small screen" anywhere & anytime access. As smartphone functionality has advanced incredibly in the last decade, so has "mobile" website technology advanced to meet the demand.
We are so pleased to announce that All-About-Houseboats (AAHBs.com) is now completely mobile and smartphone (compatible) friendly. You can enter either
all-about-houseboats.com
or
aahbs.com
to reach us even quicker.
All the different ways to get on the site:
Mobile traffic is growing on AAHBs.com
Since almost half of our visitors are arriving via a mobile/smartphone like iPhones, Androids, Samsungs etc..., it was vital for the site to upgrade/advance and satisfy the ever increasing reader needs.
AAHBs Website Traffic Statistics

Of the 2,000 daily visitors, we can see that our mobile traffic has grown exponentially in the last 5 years. Where will we be in another 5 years.


42% comes from desktops and laptops

46% comes from mobile & smartphones

12% comes from tablets and iPads etc..


Want an AAHBs icon on your phone?
Visit us (AAHBs.com), anytime, anywhere
Since a very large majority of you now have mobile/smartphones, we find that the way that people are using the internet & researching topics is drastically changing. You no longer have to wait till you get home to use the desktop computer to research (or answer) your questions.
You can make mobile browsing easy
We want to continue to be your #1 houseboat website, and wanted to make mobile browsing easier for our smartphone visitors.
We have the steps below
to show you how you can easily add an "AAHBs icon" (bookmark / favorite) to the website directly on your phones home screen. All you'll have to do is "tap the icon" and you are now on the mobile version of www.All-About-Houseboats.com

Want an AAHBs icon on your phone?
The Steps are Easy as 1-2-3
1.
To add an AAHBs icon on your phone, start by going to
www.all-about-houseboats.com
via your iPhone (Safari browser) and tap the icon (shown below) with the upward pointing arrow at the bottom of the screen (the "+" icon at the bottom of older iOS versions). The android instructions to add a browser bookmark/favorite icon would be very similar to Apple.
2.
Then, tap the "
Add to Home Screen
" icon.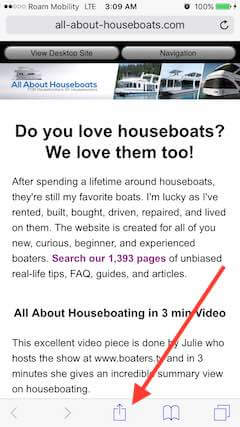 #1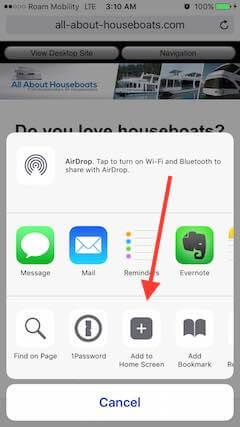 #2
3.
Tap "
Add
" to place the All-About-Houseboats icon on your phones home page screen, but you may want to shorten the text/heading to
AAHBs (the abbreviated version)
, to have it display better.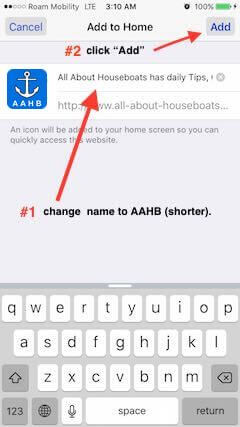 #3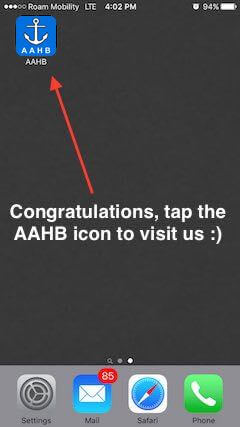 #4
4.
Congratulations
, as the All-About-Houseboats (AAHBs) icon now displays on your mobile screen so you can quickly access the website anytime & anywhere. Now go
visit our Houseboat Blog to see what's new.
---
---
Return to the TOP of the All About Houseboats is mobile friendly page
Return to the ABOUT US page from All About Houseboats mobile friendly
Return to the HB MAGAZINE page from All About Houseboats is mobile friendly
Continue Reading Our Popular Pages
Our collection of houseboat ebooks

We just love houseboats, do you?
Join our monthly HB Insider for free