The Top 5 Reasons to Get a Houseboat.
The first time we stepped on a houseboat, I was HOOKED. The feeling of having everything we needed onboard, and not needing to go back to the dock for days at a time was incredible. If you take off for the weekend on a boat, you'll come back refreshed and renewed, ready again to handle the crazy city life... :)
* Get a boat so GREAT,
that your whole family will love,
and start living the dream.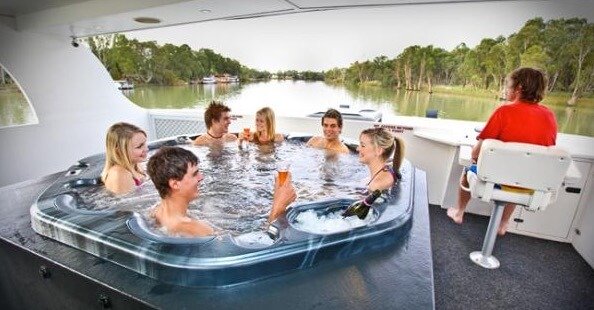 Here's the 'Top 5 Reasons' why
you SHOULD get a houseboat
Reason #1
Houseboating can CHANGE your life... (for the better)
Buying a houseboat is a major purchase, yet OWNING a houseboat could very well change the rest of your life (for the better). Spending time on the water has got to be one of life's greatest moments. It's an excellent way to reduce stress, unwind from hectic schedules, and simply the best way to reconnect with people, nature, and the environment.
Are you ready to escape civilization?
Reason #2
The TOP-12 best things... you'll love to do on a houseboat
After spending the majority of my life on/around the water, I realize there's simply no other place in the world I would rather be. If you spend some time on a houseboat,
I'm SURE you'll feel the same way.
The TOP 12 best things
to do on your houseboat
Play - you're on vacation everyday
Party - bbq's, b-day's, weekends
Entertain - guests, family, friends
Sleep - you'll never sleep so well


Sunrise - enjoy a morning coffee
Fishing - catch fish off your deck
Swim - jump in the lake anytime
Sunsets - have an evening drink


Beach - spend weekends in coves
Cruise - travel the lakes & rivers
Work - a cool "home/boat" office
Retire - live your life on the water
Reason #3
Everything you NEED is on a boat... such a great feeling
Here's a 3 photo slideshow (click the image) showing different houseboat amenities & pastimes. There's no better feeling than navigating out of the marina, and knowing you don't have to go back because you have everything you need. If you were to be on a boat today,
what do you see yourself doing?
(click an image to see all 3 slides)
Reason #4
Houseboating creates and enhances the family bond
With today's hectic pace for families, anything that can create a common bond between all the family members is a huge bonus. That's where houseboating can create memories and lifelong bonds amongst family, friends, and your guests. Talk to anyone who has owned a houseboat, and their smile & eyes will start to glow.
Can you use a stronger family bond?
Reason #5
Houseboating is affordable compared to other hobbies
When you compare the amount of time (weekends, holidays, vacations, spring break, etc...) you can spend on a houseboat, the cost of it 'per hour of enjoyment' is probably one of the cheapest ways for the family to bond together. There are plenty of starter houseboats for any budget, thus allowing you to get into it for less than you think.
What kind of budget do you have for a boat?
Bonus Reason
Get started with a 'How to Buy a Houseboat' guide
The thought of getting a houseboat is very exciting and it surely brings up 100's of questions that you want answered before buying a boat. That's where this
Houseboat Buying guide
is a perfect way to get you started on the right track.


Start reading the Houseboat Buying Guide
Return to the top of 5 Reasons to Get a Houseboat
Return to the Houseboat Forums from this page
Return to Houseboat Manufacturers from this page
Continue Reading Our Popular Pages
Our collection of houseboat ebooks

We just love houseboats, do you?
Join our monthly HB Insider for free