Wind & Waves cause Houseboat to Rock & Roll.
by Mike
(Branson, MO)
I have a 1995, 16x70 sumerset houseboat, and I am on an end slip. The problem is that I catch a lot of wind and my houseboat rocks violently in storms and when big cruisers drive by. Is there a way to stop the houseboat to rock and roll? Please help.

Thanks for any help, Mike.



Reply - Answer
Mike, that's an excellent question, and it's a popular one amongst houseboats. The solutions that I can recommend are simple:
1) If there's an opportunity to install a "No Wake" sign, that would reduce the waves from cruisers nearby.
2) You can try and tie up the houseboat using the spring line method, since this will soften the movement from wind and waves.
3) One of my last recommendations is a 2 part answer.
You can use Dock Snubbers on your dock lines. I use them myself and have greatly eliminated the rocking associated with wind and waves. The mooring snubbers reduce the stress on dock lines, and the violent swinging.



You can also use Rocker Stoppers on the sides of your houseboat. It reduces the sideways rocking motion. They use this technique also on large fishing boats to reduce the constant rocking back & forth.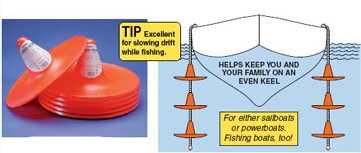 I hope this all helps, and possibly some of our readers will post comments or pictures showing how
they have reduced the rocking and rolling houseboat problem.
IAN - from www.all-about-houseboats.com
Free Bonus Offer
To show our deep appreciation to all of our readers and visitors, here is the link to our free houseboat magazine, the INSIDER. Go ahead click the book and sign-up, it's free and filled with great articles, tips, information and website updates.