Week 04 - RV Road Trip all about Houseboats. RVing cross country.
by IAN from www.all-about-houseboats.com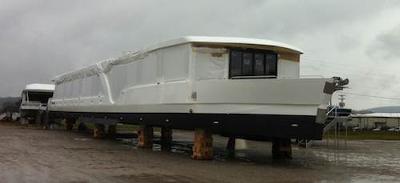 RVing USA - the RV Road Trip all about Houseboats!
Can you guess where this popular houseboat area is?
Here's a Thanksgiving weekend update from the RV Road Trip all about Houseboats. There is plenty to be grateful for in life, and sometimes we don't realize it.


I am lucky that I have good health, I am thankful for having good friends, and I am grateful for the generosity of others (the delicious Thanksgiving dinner brought by Bart, Ellie, and Tristan), and am lucky to have my trusty travel companion Zoey who loves the the dash of the RV :)
This week we stayed in the lower southern Kentucky area as there is Lake Cumberland and Dale Hollow Lake nearby. The lakes here are long zig-zaggy waterways that have plenty of marinas, houseboat rentals, and businesses to visit.
Now back to the RV Road Trip all about Houseboats. There's a new trend happening in houseboating around the world, and it is these really
affordable new Floating Home Houseboat Cottages
that are being bought and shipped all over the country.
RVing Adventures - RV Battery Power
Traveling with an RV full-time does have its adventures as this week I had to solve a 120v/12v converter/battery charger problem. Since the RV is an older model, in those days they would often put a small standard sized charger/converter. In my case the converter was 25 amps DC, yet the battery charger portion was a 3 amp charger.
A 3 amp battery charger is like a trickle charge that you would use on a boat/car/camper to store it during the winter just to keep the battery maintained. In my case, heating the RV with the propane furnace requires 6-7 amps to run just the fan and multiplied by 12 hours, along with the additional lights, fridge, TV/inverter/office
accessories.
So suffice it to say that I would occasionally wake up in the morning and find that my two deep cycle batteries were 50-70% depleted. This would require replenishing @ 100-125 amps back into my house/RV battery banks. At a 3 amp charge rate, that could take forever.
That's where a new Progressive Dynamics #PD9245 4-stage 45 amp Converter/Battery Charger came into the picture. This little puppy replaces the old out-dated system that I have, and boy, does a new 45 amp system really help.
Now I can recharge the battery banks in a few hours compared to a few days. Just as in houseboating, you need a reliable and appropriately sized charger system to replenish our battery banks that run all our systems.
As Thanksgiving is here, I am also grateful for FULL BATTERY POWER :)
Lastly
, hopefully some of our readers and visitors will share and post comments about their Houseboat or RV travel experiences.
Feel free to use the "Click here to post comments." link found near the bottom of this page.
* Don't forget, if you can identify the location of any of the 4 pictures above, do let me know in the comments section :)
Thanks again for sharing, IAN from all-about-houseboats
More Information
Free Bonus Offer
To show our deep appreciation to all of our readers and visitors, here is the link to our free houseboat magazine, the INSIDER. Go ahead click the book and sign-up, it's free and filled with great articles, tips, information and website updates.