Week 02 - RV Road Trip all about Houseboats. RVing cross country.
by IAN from www.all-about-houseboats.com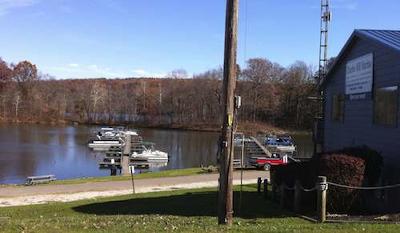 RVing USA - the RV Road Trip all about Houseboats!
Can you guess where this popular houseboat area is?
Heading into my second week and I can see how life on an RV Road Trip is like, the time just flies by and before you know it is time for bed. Did I mention that I should write an RV Guide on overnight parking in Walmarts? Their gigantic stores are open 24 hours, and provide a great place to stop, shop, and sleep.. :)


Now RVing throughout the country isn't all roses and flowers, there are moments were a man has to take charge and fix things. I unfortunately had battery problems which turned out to be a bad cell in the new Interstate Deep Cycle battery that I had purchased about a month ago.
I was fortunate though as Interstate has a great warranty and had one of their local distributors swap out the bad battery and install a new GOOD battery :)
Now talk about terrain, all the hills of Kentucky have caused me to crank up the RV maintenance, as I had the oil changed to semi-synthetic, flushed the radiator with new antifreeze, and had the transmission fluid changed for "new fresh and ready" to climb the hills of Tennessee fluid. (apparently the hills of Kentucky are nothing compared to Tennessee's hills).
Now enough about Walmarts, sleeping, batteries, and hills, let's get back to Week 02 of the RV Road Trip all about Houseboats.
A) I have been fortunate this week again as I have met many more new potential clients along the way, such as Craig from Kent's Harbor in Liberty, Indiana who have a complete resort style setting.
B) My next stop was Ohio and I had a great meeting with Terry from Insurance Associates of Middleton Ohio as we discussed boaters insurance needs.
C) Since I had previously been at Pluckebaum Custom Boats about 5 years ago, I had to stop in while in Prospect Kentucky and discuss business with Teresa who gracefully runs the whole office there.
D) While in Kentucky, I stopped by and had a great discussion about insurance with a houseboater himself Jeff from Old Kentucky Insurance of Louisville.
E) Now I couldn't be in Louisville Kentucky without stopping
into the Salty Paws Marine & RV were I was graciously welcomed by Alan & Carol who are very passionate and experienced in Marine & RV accessories.
F) While in Winchester Kentucky, I was lucky to catch Bob from H2O Performance as he was on his way out to install a hydraulic bow stern thruster system on a new houseboat. Bob is also a houseboater and very passionate about the quality/performance of his boat thrusters.
G) While in Lexington Kentucky, I stopped in to speak with Mike of Carroll & Stone. Mike is a houseboater himself and finds himself insuring houseboats and commercial marina projects.
H) My last stop for the week was at HydraNautics in Nicholasville Kentucky were I met Dick who was closing up shop on a late Friday afternoon. He was kind and stayed an extra 30 minutes so we could discuss the advantages of having a bow & stern thruster.
As you can see, that covers some of the weeks highlights as it has been a very busy week adapting and organizing my daily tasks. I now am a firm believer that attitude and determination have a lot to do with where we end up in life, and next week I will be in the heart of Kentucky's houseboat land :)
Lastly
, hopefully some of our readers and visitors will share and post comments about their RV or houseboat travel experiences.
Feel free to use the "Click here to post comments." link found near the bottom of this page.
* PS, don't forget, if you can identify the areas in any of the 4 pictures, do let me know in the comments :)
Thanks again for sharing, IAN from all-about-houseboats
More Information
Free Bonus Offer
To show our deep appreciation to all of our readers and visitors, here is the link to our free houseboat magazine, the INSIDER. Go ahead click the book and sign-up, it's free and filled with great articles, tips, information and website updates.