Trailerable Combo Cruiser Houseboats - 22' Combo-Cruiser--"Bubbles"
by James Reed
(Perkins, OK, USA)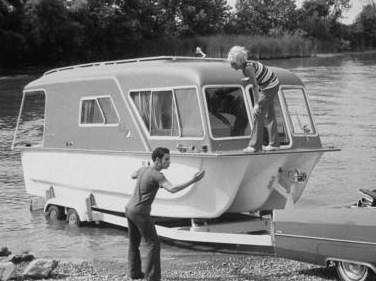 The rare trailerable Combo Cruiser houseboats.
The trailerable Combo Cruiser houseboats were an innovation far ahead of it's time. This house boat was built in Mishawaka, IN in the late sixties utilizing Goodyear Royal-Lite similar to ABS. We purchased her used for $7500 in 1974.


She was totally self contained with a 17' long cabin. Marine head, shower, refrigerator, three burner stove with oven, and a closet. She slept 4 adults, plus more on the upper deck.
The draft was 8". Starboard helm and instrument console. Upper deck area was reached by a portable ladder on the Port-side which also doubled as swim ladder and boarding ladder--when on the Trailer.
In-board Power was a 1500 CC English Ford OHV 90HP Engine which used 2 Gals/hour at 8 to 10 MPH. It had an OMC Outdrive. (The old "knuckle" drive.)
We lived in Southern California and kept the boat on Lake Powell at Bullfrog Marina. We not only used her for vacations but also Thansgiving and other times during the winter.
On one trip in late November we boated the entire upper portion of the lake to Hite Marina and return. During that time we saw only three boats.
Real Solitude!!
Lake Powell is Very Special in the winter time as the Lake surface is just like Glass, with very little wind and lots of sunshine and no traffic!
We sold her in late 1995 for $6500.
----------James Reed
Reply - Answer
Well James, thanks for posting your article about the Combo Cruiser houseboat. I just love seeing these rare trailerable house boats.
It sounds like you were able to get a lot of great use out of her, especially on world famous Lake Powell. She seems to have been very well equipped, and it looks like you had her for 21 years, and only lost $1,000 from the original purchase price.
I wish I could buy a houseboat today for $7,500 dollars and use her for 20 plus years, and sell her for basically the same price. Than again, the money is irrelevant considering all of the cherished memories that you probably have of her. I'm sure thinking about her puts a smile on your face :)
Lastly
, hopefully some of our readers will share and post comments about their Combo-Cruiser houseboat experiences. Feel free to use the "Click here to post comments." link found near the bottom of this page.
Thanks again for sharing, IAN from all-about-houseboats
Free Bonus Offer
To show our deep appreciation to all of our readers and visitors, here is the link to our free houseboat magazine, the INSIDER. Go ahead click the book and sign-up, it's free and filled with great articles, tips, information and website updates.