Steel pontoons make my houseboat obsolete.
by Kathe
(California)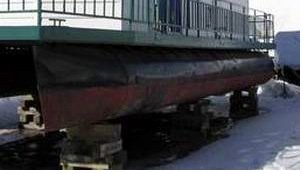 Sample of older steel houseboat pontoons
The difference between aluminum versus steel houseboat pontoons. I have had this houseboat for 23 years, the boat is a 1972. My wonderful boat has steel pontoons. I can not find insurance for my houseboat because of the age and pontoons.


I have tried calling many companies and am having no luck at all in finding insurance. I am ready to do the repairs on the cabin that need to be done. I don't even know what the cost would be to replace the pontoons, or if it can be done.
I had no idea that my boat could become obsolete. I am looking at demolishing my boat now. I am terribly sad.
If others are looking to buy a houseboat be sure to have the newer aluminum pontoons.
Has anyone else experienced this?
Kathe in California.
Reply - Answer
Hello Kathe, so sorry to hear about your dilemma regarding your houseboat.
I don't know all the details about your houseboat, the cost, or it's condition, but you may be able to have the steel pontoons removed and aluminum ones installed.
You may find that it would be too costly to have it done, since you may be better off to take those funds and put it towards a newer aluminum hulled houseboat.
Lastly
, hopefully some of our readers and visitors will share and post comments about their steel pontoon houseboat experiences and tips.
Feel free to use the "Click here to post comments." link found near the bottom of this page.
Again, sorry to hear about your situation, IAN from all-about-houseboats
More Information
Free Bonus Offer
To show our deep appreciation to all of our readers and visitors, here is the link to our free houseboat magazine, the INSIDER. Go ahead click the book and sign-up, it's free and filled with great articles, tips, information and website updates.