Review of a trailerable Nomad houseboat
by Rick
(Red Wing, MN)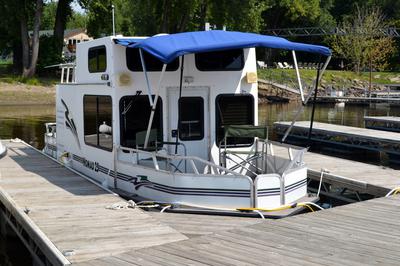 Bow view of a trailerable Nomad houseboat
Here is a personal review from an owner of a 2002 Nomad trailerable houseboat. Is it possible to spend an entire Minnesota winter in a 2002 Nomad on the Mississippi River?


Probably, but I wouldn't recommend it. Having tried, I'd advise against. I made it to the first week in January.
Year-round boating usually isn't an option here, but the river doesn't freeze at Red Wing due to the steam released by the Prairie Island Nuclear Plant upstream.
So it's doable, but unless you have something to prove or have no other options, not worth the trouble. It snowed 10" here May 2nd, so that's too long in the Nomad.
Like Dan the Boat Man, I purchased my 2002 Nomad a couple of years ago, sight unseen off the internet, from the owner of Nomad Houseboats Inc., who was also looking to sell the company at the time.
I got a ten-year old Nomad for half the price of new. No bargain, but there's nothing not to like. The Nomad has it all in a well-designed, well-built package.
The 50-mile trip upriver from Red Wing to St. Paul is like a 3-hour tour. The tiny ship gets tossed, but cruises at a steady 30+ mph.
Just my thoughts, Rick from Red Wing, MN
Reply - Answer
Rick, I
wanted to thank you personally for posting such a good submission about the Nomad, especially since you included good photo's… :)
I have always liked the nimble and compact aspect of the Nomad as it's not a huge boat, but a very good trailerable houseboat with great value.
Like you said, living on a houseboat in a northern/winter climate does require some serious preparation, and is not for everyone.
Things that need to be considered are like heating, ventilation, condensation, septic, drinkable water, cabin fever, etc... are just some of the issues that need to be addressed.
Lastly
, hopefully some of our readers and visitors will share and post comments about their Nomad houseboat experiences and tips.
Feel free to use the "Click here to post comments." link found near the bottom of this page.
Thanks again for sharing, IAN from all-about-houseboats
More Information
Free Bonus Offer
To show our deep appreciation to all of our readers and visitors, here is the link to our free houseboat magazine, the INSIDER. Go ahead click the book and sign-up, it's free and filled with great articles, tips, information and website updates.