Remolding a Sumerset houseboat
by Kay Allen
(Tablerock Lake, Branson, MO)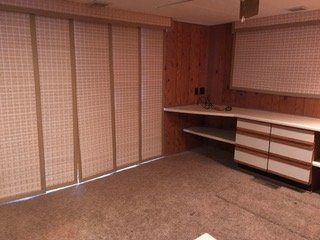 wall where we want to hang a TV in our houseboat
We are in the process of remodeling our 89 Sumerset houseboat. We have everything about figured out, but have a couple of things left.


How do you replace the medicine cabinets, they are so necessary but difficult to replace due to their age, and trying to find the right size?
Also, we would like to mount a couple of TV's, what is the best way to do this. We know the walls are too thin for a standard support system. Do you have to build out in order to support it?
Any help would be appreciated, Kay.

Reply - Answer
Kay, thanks for posting in the houseboat forums.
You are now in the same situation that many of us have been in before, how to make the best use of limited wall space & structurally mount things in thin walls.
When it comes to mounting TV's brackets, try and use bolts (machine screws) with nylon locknuts. The constant movement & vibration will lessen standard wood screws.
If you have to use wood screws, be sure that you are going into a stud. Or use a large plywood backing plate that has MANY wood screws to added support (but check the tightness of the screws once a year).
When it comes to the medicine cabinets, it is not easy to find compatible replacements of equal size. You might be better off by repainting them, and possibly using a stencil to add a more modern flair to them (rather than ripping them out).
I have seen some really nice remodel projects with our website visitors, so surely others will have more "creative ideas".
Lastly
, hopefully some of our readers and visitors will share and post comments about their related houseboat REMODELING experiences and tips.
Feel free to use the CLICK HERE TO POST COMMENTS link found near the bottom of this page.
Thanks again for sharing, IAN from all-about-houseboats
More Information
Free Bonus Offer
To show our deep appreciation to all of our readers and visitors, here is the link to our free houseboat magazine, the INSIDER. Go ahead click the book and sign-up, it's free and filled with great articles, tips, information and website updates.