Ontario Houseboats - the 1000 island places in Thousand Islands to boat in.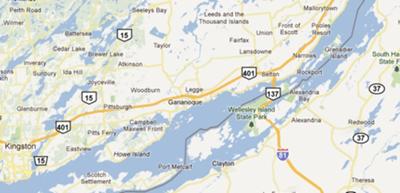 Ontario Houseboats, 1000 islands to boat in Thousand Island
When it comes to Ontario, houseboats are found all over the Thousand Islands area. One of the best features of the 1000 islands is it's one of the most beautiful waterways for houseboaters as in there is wide spectrum of towns and villages that are begging to be explored.


The area is filled with bays, anchorages, and some of the prettiest marinas found anywhere. If you are boating in and around Thousand Islands don't forget to bring your passport as the waterway is bordered by the US on the south side.
If you're looking for towns to visit, you can start at the west end with Kingston, Ontario. If you're working your way eastward, you will want to visit Gananoque, Ivy Lea, Rockport, and finally arriving at Brockville on the eastern end.
If you want to navigate around some of the excellent provincially maintained docks, you may want to spend the night at some quiet secluded slips than you should try Howe, Wolfe, and Grenadier islands.
One of the favorite places for houseboaters in the area has to be the town of Ivy Lea, a super quaint little village where you will find Williams Marine. They are a full-service stop for everything from A-Z. They cover all kinds of marine services like:
a.. Summer dockage and winter storage.
b.. 4500 sq ft workshop and parts department
c.. Trained diesel and gas technicians -
Volvo Penta, Yanmar, Crusader, Mercruiser, OMC, Indmar, Ford Leman, Caterpillar, Perkins
d.. Specializing in marine transmissions and V-Drives
e.. Generator sales and service, Kohler, Onan, Northern Lights
f.. Open end 20 ton Travel Hoist can accommodate vessels up to 45' in length, 14' beam and operates year round
g.. Machine shop on site - Manufacturer of inboard propeller shafts, strut, rudder and all under water gear repairs and replacements
h.. Installations: Bow Thrusters, Windlass, Electronics, Instrumentation, GPS Systems, Auto Pilots, Entertainment, Refrigeration and Heating
i.. Rebuilds Gas and Diesel turbo chargers
If you happen to stop in to Williams Marine, let them know that I sent you.... They will take good care of you. IAN.
Any other houseboating areas?
If you find any other great spots to go houseboating in the Thousand Island area, feel free to use the "Click here to post comments." link found near the bottom of this page.
Thanks again for sharing, IAN from all-about-houseboats
Free Bonus Offer
To show our deep appreciation to all of our readers and visitors, here is the link to our free houseboat magazine, the INSIDER. Go ahead click the book and sign-up, it's free and filled with great articles, tips, information and website updates.